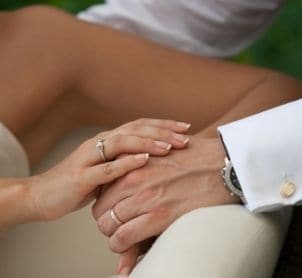 Celebrate your love with a stunning wedding band. To choose a stylish ring that will last a lifetime, consider a variety of durable and fashionable metals. Many metals are great choices for a wedding ring; each metal offers a different aesthetic and a range of pros and cons.
Excellent Wedding Band Metals:

Platinum: Platinum is a popular choice for wedding bands. Platinum is a pure metal because it doesn't have to be alloyed with a base metal for durability. This makes platinum hypoallergenic. Platinum wedding bands are solid platinum, which means the shine and silky silver color will not rub off. Your platinum wedding ring will look just as lustrous in 50 years as it does on your wedding day.

Gold: Gold is also a popular metal in wedding rings. Gold is rare and precious, making it a symbolic choice for couples in love. Yellow gold is a good choice for brides and grooms who want a classic, almost antique look. White gold offers the silver hue, but it is less expensive than platinum. Rose gold is a unique pink metal that looks lovely in wedding bands. This range of colors is not widely available in other metals.

Industrial metals: When looking for a contemporary wedding band with a high level of durability, consider industrial metals. Titanium, tungsten and stainless steel are all good options for wedding rings. Titanium is the lightest of the three, both in weight and color. Tungsten is one of the strongest metals available anywhere. Stainless steel is very affordable. All three industrial metals offer the stylish silver hue, though many are decorated with other metals for a two-tone fashion.

Sterling silver: Sterling silver is very affordable, but it is also beautiful and durable. Sterling silver is comprised of 92.5 percent silver and 7.5 percent metal alloy, and this precious metal is a good choice for simple wedding bands. It is simple to clean a sterling silver wedding band with a bit of silver polish and a soft jewelry cloth; sterling silver needs to be cleaned regularly to remove tarnish. It can be difficult to clean in grooves and around stone settings, so choose sterling silver only if your wedding band incorporates a simple design.

Buy Wedding Rings
Back to Guides Directory