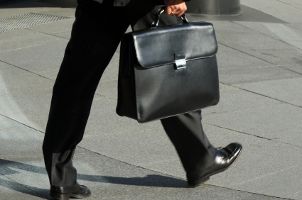 In the minds of many men, shoes should be simple -- and shopping for men's shoes should be easy, too. In professional workplaces and at formal occasions, however, you need men's dress shoes that both look and feel great, no matter where you wear them. Fortunately, there are a variety of men's shoes that are appropriate for such situations; you just need to know which shoes for men will work best. Read on for tips on selecting the best men's dress shoes for every event you attend.
Top Men's Dress Shoe Styles:

Oxfords. Men's oxfords are among the most traditional men's shoes, and they come in many different fabrics, colors and styles. For a classic look, purchase men's oxfords with wingtip detailing or find men's leather shoes in a cap-toe style you can wear with dress pants or khakis to work. Oxfords and similar men's footwear made of shiny patent leather are also perfect for wearing with tuxedos and dressy suits on formal occasions. Be sure that you match your shoes to your belt and the general color of your suit: Black dress shoes should be worn with a dark suit, while brown dress shoes can be worn with a beige, brown or light-colored suit.

Boots. For a stylish alternative to boring men's footwear, especially for the office, why not try men's dress boots? Usually made of leather or suede, these comfortable men's leather dress shoes are available in many fits. Men's dress boots that extend just above the ankles look great with dress pants or even a suit, and boots made of suede or even distressed leather are the perfect complement to fitted jeans in a casual workplace.

Slip-ons. While the name may make these dress shoes for men seem too casual, these men's leather shoes are simply easier to put on than traditional oxfords. Look for men's footwear made of smooth patent leather, suede or lambskin leather and shake things up a bit with men's leather dress shoes in white or beige. Black dress shoes with buckles or tassels are less formal and will dress up a pair of nice jeans or khakis on a casual work day; brown dress shoes with a smooth, slightly pointed toe are also stylish and go with almost any outfit.

Buy Men's Shoes
Back to Guides Directory