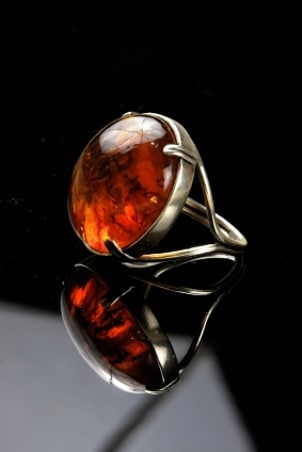 Gemstones are incredibly enticing with their bright hues, sparkling facets and mythological lore. Gemstone jewelry is versatile enough for any wardrobe, whether professional or casual. A variety of gemstone rings, bracelets, necklaces and earrings can diversify your jewelry collection, but which pieces of men's gemstone jewelry will do the most for your jewelry assortment? Consult our list of some of the best men's gemstone jewelry to choose gemstones for yourself.
Stylish Men's Gemstone Jewelry:

Birthstones: A birthstone is a gem that represents your month of birth. Birthstone jewelry is cool because it is personal. Your birthstone can become your signature gem, and pieces of men's jewelry can be found with any birthstone. Add ruby rings to your collection if you have a July birthday or buy turquoise bracelets to represent your December birthday. Consult our birthstone options for each month to determine your birthstone and start shopping for birthstone men's jewelry.

Cuff links: Not every piece of gemstone jewelry is easy to wear, but cuff links can go with any nice outfit, making them a good investment. Gemstone cuff links may feature brightly colored gems or stones with more subdued hues. Many men's gemstone cuff links incorporate detailed metalwork and several different gemstone types. Choose men's gemstone cuff links that will go with all your French-cuff shirts.

Neutral shades: Some gemstones are available in neutral hues, making them a good choice for many men. Onyx is a popular men's jewelry gemstone, with its lustrous black appearance. Nephrite, also known as white jade, can be translucent, white or pale beige. These shades will complement a neutral fashion ensemble. Turquoise can be pale blue or sea green and matches well with a masculine wardrobe. Black, blue and silver pearls are unique; the darker hues give this gem a masculine edge. Find your signature neutral gemstone and fill your collection with men's jewelry that you will want to wear regularly.

Beads: Beaded jewelry is sleek and versatile. Many gemstones make handsome beads, including quartz, tiger's eye and malachite. A beaded gemstone bracelet can go well with a leather watch and a simple gold or silver ring. Beaded gemstone jewelry is slightly more feminine than some men's gemstone jewelry, so choose pieces that will complement your personal style.

Buy Men's Gemstone Jewelry
Back to Guides Directory