Best Materials for Shams
by Staff Writer
One type of bedding that every bed requires is shams. Shams can refer to either the large decorative pillow that frames a made bed or the special pillow cover that encases it. Sham pillows, covers and other pillowcases are essential to keeping your bed a comfortable and clean place to rest, especially if you prefer to sleep on more than one pillow. Decorative shams also add style and class to your bed. Of course, style and comfort are relative, so it's nice to know that shams are available in a variety of materials, styles and colors. If you're shopping for pillowcases but don't know what type will work best for you, don't fret. Keep reading to learn about the best materials for shams.
Preferred Pillow Sham Materials: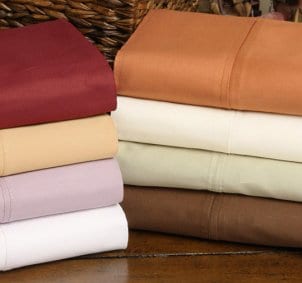 Shop Pillowcases ▸
Cotton:

The most popular material selection for shams and lots of other bedding is easily cotton. Cotton shams can be found in almost every home. These pillow shams offer familiar comfort and a wide range of styles and colors. Cotton shams are one of the most durable options for sham pillow covers and are easy to maintain. Washing this type of pillowcase generally requires nothing more than a simple trip through the washing machine.

Sateen:

If you want to boost both comfort and luxury on your bed, sateen shams are a must. Sateen shams and bedding use closely woven cotton cloth to achieve a soft texture and stylish shine. Sateen shams are available in many colors and in all the popular pillow sizes, including the square European pillow sham size, so there's no need to worry about finding this type of sham to match your design scheme.

Silk:

Although sateen pillow shams are luxurious, silk shams take opulence to the next level. Silk shams are slightly more difficult to take care of than other pillowcases, but they make up for it with their lavish qualities. Soft, shimmering and beautiful, silk shams are irresistible. They are some of the most popular and elegant decorative pillow options and come in a variety of sizes. Use both a standard sham and a European pillow sham made of silk for a truly elegant bed.

Flannel:

For warm, soft comfort, flannel shams are a trusty standby. Flannel pillowcases provide the maximum in warm bedding; if you live in an area that experiences extreme cold, make sure you have a flannel standard sham to help you defeat the winter chills.