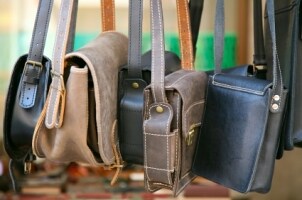 If you're looking for a truly versatile bag, consider a messenger bag. You can tote these handy bags virtually anywhere, whether it's your first day on campus or just another day at the office. When you're looking for the ideal messenger bag, a top consideration should the material it's made of. Keep reading to learn more about the best materials for messenger bags.
Messenger Bag Materials:

Leather: If you want a messenger bag that's truly durable, choose leather. With proper care, a high-quality leather messenger bag can last a lifetime. Leather can by heavy, but it is very resistant to accidental tearing and punctures. Some types of leather are also more rigid than other materials, which can help protect the contents of a bag. Leather messenger bags, particularly those made of top-grain leather, often have a sleek and shiny appearance. Full-grain leather and suede bags give you a more casual look without sacrificing style. Leather bags make great laptop messenger bags and are great bags for the office.

Canvas: For a natural, easy-to-care-for material, choose canvas. Canvas is a medium-weight, versatile and inexpensive material usually made from natural fibers, such as cotton, linen or hemp. Canvas messenger bags are usually machine washable and easy to take care of. They're made in an enormous variety of colors and styles, and because of the affordability factor of canvas, you might consider purchasing multiple bags to match different outfits and situations. Canvas is a dense material and is often used where structured fabrics are required; this means your canvas messenger bag will keep its shape, last for a long time and protect your things.

Nylon: If you're looking for great value and durability, pick a messenger bag made of a synthetic material like nylon. Under reasonable conditions, nylon messenger bags can maintain their appearance for long periods of time. Plus, they're often easy to clean and stain-resistant. Like canvas messenger bags, nylon bags are often light and inexpensive, meaning you can get a few different bags to match your ensemble or the task at hand. Nylon in known for its great tensile strength and durability, so you can feel confident using a nylon laptop messenger bag to carry your valuable computer. Because nylon is formed from petroleum products, it is very sensitive to heat, so wash and dry your nylon messenger bag on cool settings.

Buy Messenger Bags
Back to Guides Directory