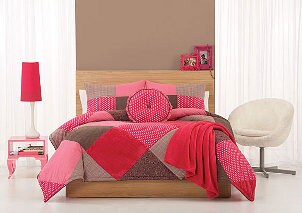 A young child's bedroom should be a comforting getaway, featuring plenty of personality and a variety of soothing fabrics. When designing a bedroom oasis for your child, you'll likely rely on kids' bedding to guide your style choices, but pay attention to fabric blends, too. A gentle assortment of cotton, flannel or organic fabric can provide your child with a cozy place to rest, play and recharge.
Kids' Bedding Materials:

Cotton: Cotton absorbs messes and spills and is easy to clean. It's also a breathable fabric, making it ideal for children who get overheated easily at night. This durable and economical textile is a popular choice in children's bedding, particularly in bed-in-a-bag sets; these bedding sets include comforters, sheets, bedskirts, pillowcases and sometimes even curtains, in coordinating patterns and hues. Cotton is also a top choice for sheets. High thread count cotton sheets are very soothing, especially to children with sensitive skin.

Organic fabric: Organic fabrics are another great choice for kids with allergies and sensitive skin. Organic cotton is produced without the aid of pesticides, fertilizers or other chemicals. Bamboo is popular in organic fabric because it grows quickly, requires less water than cotton and many other plants, and thrives without pesticides. Bamboo is often blended with cotton to create soft and durable sheets, duvet covers and blankets.

Flannel: If warmth is a top priority, consider children's bedding made of flannel. Flannel is a popular choice in sheets. Look for brushed flannel sheets, which have an added softness. In addition to bringing extra warmth to your child's bed, flannel offers fun and trendy patterns. Choose classic red and blue flannel to match your child's red curtains, or opt for a contemporary striped pattern in beige tones for a modern aesthetic. Soft flannel is also found on the backs of many fun and comfortable children's quilts.

Fleece: A good mixture of fabric lends texture, style and comfort to any child's room. Add a touch of soft, fluffy warmth with a fleece throw. Fleece is versatile and easy to clean, and a throw's compact size means your child can cuddle with it while watching a movie, and then put it back on her bed for extra warmth on a cold night.

Buy Kids' Bedding
Back to Guides Directory