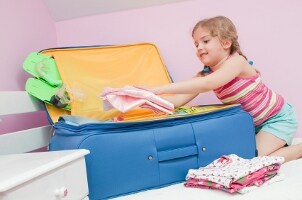 Traveling can be hard on kids, but you can make trips easier for your children and for yourself by picking kids' luggage that's right for them. Finding great kids' luggage isn't difficult, but there are some things you should consider before beginning your hunt. Keep reading for some tips on how to find the best luggage for kids.
The Best Kids' Luggage:

Take your kid's opinion into consideration. By involving your child in the luggage purchase, you'll be able to combine opinions in order to find the ideal piece of baggage. This includes the obvious, like not getting pink luggage for your son, as well as the details, like which pattern or luggage style he prefers. If your children like their luggage, they'll be more willing to pack their own things and have more fun being responsible for their things, which saves you some time and stress.

Consider your kid's age. If you have a younger child, smaller luggage will be necessary; think about getting a small backpack or wheeled upright that will be easy for your young one to carry or pull. Older children will be able to handle larger backpacks, duffle bags, suitcases or uprights. Most kinds of luggage now come in rolling options, too, which is helpful and convenient whatever age your children are. Look for matching sets of kids' luggage as your children get older so they can pack the growing number of things they need and feel grown-up about it.

Be prepared. Baggage with multiple pockets is perfect for kids because it will allow you to pack the bag with snacks and entertainment to keep your child occupied and happy. Outer compartments also allow you to pack the small things that are important to your child, such as a favorite blanket.

Think low maintenance. Kids' luggage made from plastic or vinyl is durable and can be wiped down. Canvas is another great option, as it's both lightweight and easily cleaned. Baggage made from these materials is also easy to store; they often fit inside each other or collapse nearly flat to hide under a bed or in a closet. All kids' luggage comes in many bright colors and fun patterns to make packing an adventure instead of a chore.

Buy Kids' Luggage
Back to Guides Directory