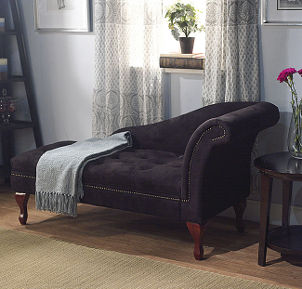 If you're looking for unique, statement-making furniture, why not purchase chaise lounge chairs for your home? With their distinctive reclining frame and length, chaise lounges can add style to your decor both inside and out. Read on to discover the best locations for chaise lounge chairs.
Placing Chaise Lounge Chairs:

Spruce up your patio. Why stick to boring plastic stacking chairs when you can buy outdoor chaise lounge chairs for your patio? A folding chaise lounge can be stored indoors and pulled out for extra seating when guests arrive. When you need seating by the pool, especially for a backyard party, a folding chaise lounge made of vinyl is the perfect option. Look for outdoor chaise lounge chairs that include waterproof cushions and durable plastic or aluminum frames to withstand the weather. You can always find patio chaise lounge chairs in similar shapes and sizes to tie your patio decor together; if you're short on money or time, matching or coordinating cushions are a great solution for sprucing up these patio chaise lounge chairs, too.

Make your own window seat. Create a cozy place to curl up all year round by placing an upholstered chaise lounge beneath a favorite window. A fabric chaise lounge will allow you to create a vintage look, especially when you add comfortable throw pillows and place an antique lamp nearby. For a more modern space, choose a leather chaise lounge you can accent with a textured throw. Whether you prefer a leather style or upholstered chaise lounge, you can stack a few magazines near your chair to turn your space into a reading nook. A double chaise lounge with storage beneath the seat can also keep books and blankets neatly hidden away.

Create contrast in your living room. Add extra seating to your home by placing a leather chaise lounge opposite the sofa or next to it. Look for a chaise lounge in a color that complements your current living room furniture but stands out, too. If you want to relax in front of the TV with your partner, a comfortable double chaise lounge is the perfect chair.

Add seating to your bedroom. Placing a handsome fabric chaise lounge at the foot of your bed will add dimension to your room and give you a place to sit while you put your shoes on in the morning. This indoor chaise lounge can also hold the outfits you plan to wear in the morning or serve as a nightstand for the books you're reading. Look for an indoor chaise lounge that suits your bedding and style of furniture to create continuity.

Buy Chaise Lounges
Back to Guides Directory