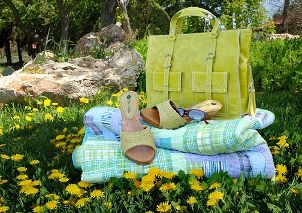 Leather handbags are always in fashion. Whether you carry a large tote or a smaller hobo-style leather purse, your handbag is sure to be a durable, timeless addition to your outfit. Go casual or dressy, and there will be a leather bag that coordinates. Available in smooth dyed cowhide or a variety of animal prints and textures, the top leather handbag styles include the hobo, satchel, tote, shoulder bag and clutch.

Hobo. One of the most common bags, the hobo handbag is a great day-to-day option. The top layer of many leather hobo handbags> is made from top-grain leather, since it can be dyed in any color imaginable. The hobo handbag comes in many different sizes, but it is never considered bulky or oversized. A leather hobo handbag can easily accommodate a wallet, cell phone and other personal items with room to spare.

Satchel. Top-grain and full-grain leather are commonly used to make satchel handbags. Made for women on the go, the durable leather satchel handbag offers a chest-crossing strap. Satchel handbags leave your hands free to open doors, maneuver strollers or carry shopping bags. Look for a leather satchel handbag with compartments and pockets for convenience.

Tote. This oversized handbag option is popular with women who need to carry heavier loads to work or around town. The leather tote has a large capacity that allows you to carry paperwork, a laptop or lunch. Also used by modern mothers, a large leather tote can easily double as a purse-diaper bag combo. A tote's long straps make it easy to throw the bag over your shoulder and go.

Shoulder bag. The most versatile handbag is the leather shoulder bag. This handbag commonly has two straps for carrying ease. A short option allows the bag to rest on the shoulder and fit snugly under the armpit. The longer strap allows the bag to rest against the hip when you drape it over your shoulder. Leather shoulder bags can be found in soft suede or top-grain leather.

Clutch. The small, hand-held leather clutch may also be referred to as a coin purse. Just large enough to hold your daily essentials -- a little cash, identification, a credit card or two, cell phone and a tube of lipstick -- the clutch is perfect for short trips to the store or a special evening out. Often made of soft suede, a leather clutch is fashionable with strapless gowns and other evening wear.

View All Leather Bags
Back to Guides Directory