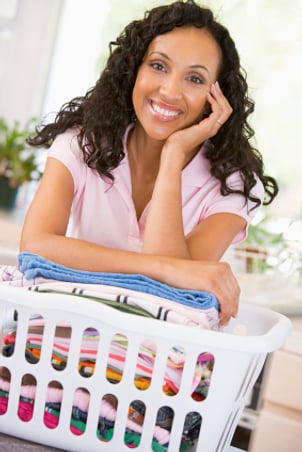 Staying organized in an apartment or condo often requires creative solutions. If you have limited storage space or you lack a laundry room, then turn to smart and helpful supplies to keep your apartment tidy and functional. Choosing the right hamper is essential to maintaining a fresh and organized home. These versatile hampers can lend you a hand.
Hamper Styles:

Collapsible: Collapsible hampers are perfect for small spaces because, when they are empty, they can be stowed away in any cabinet or closet. Collapsible hampers can easily be moved if you have company, and they are lightweight enough to be toted downstairs to the communal laundry room.

Wheeled: Choosing mobile furnishings is an innovative way to take advantage of limited space. Cloth hampers on stainless steel industrial wheels are stylish, and they are easily moved to suite your organizational needs. Wheel your hamper into your closet if you have company or move it to make space for your spare chair.

Corner: A corner hamper makes use of wasted space by sliding into the most inconspicuous corner in your bedroom, bathroom or office. You'll hardly notice a corner hamper until you need it, especially if it has a lid and is the same color as your walls or floor.

Designer: Rather than hiding your hamper, you can embrace it by choosing a designer pattern and style. Add a touch of the wild to your bedroom with a leopard- or zebra-print hamper. Choose a beige, steel and wood hamper and display it proudly in your hallway next to your vintage writing desk. Bamboo hampers are sleek and tropical, while brightly colored hampers breathe life into a boring neutral space.

Under-the-bed: Roll your dirty laundry away by making use of the space beneath your bed, couch or armchair. Even a studio apartment has room for a roll-away hamper. No one will even know that you're hiding laundry when you tuck it beneath your furniture.

Buy Hampers
Back to Guides Directory