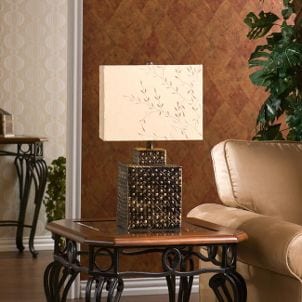 Make your family room a fun, relaxing area with the right lamps to complement your home decor. Whether you want contemporary lamps with simple designs for a clean, uncluttered feel or funky table lamps that add style to your laid-back room, these suggestions will help you buy lamps that fit your home and your lifestyle. Read on for tips on finding the best lamps for your family room.
Lamps for Your Family Room:

Buy floor lamps for versatility. With just a few floor lamps placed around your couches, you can light up the family room easily. One of the best features of these lamps is their thin shape, which allows them to be placed almost anywhere in the room. You don't have to stick to the simple chrome floor lamps with extendable heads, either; consider placing torchiere-style glass lamps next to your favorite armchairs for a sophisticated, old-fashioned vibe. If modern lamps fit your decor better, look for adjustable lamps you can arrange around the room at different heights, depending on the activities of the room. For example, fixtures with light directed downwards make excellent reading lamps and task lights for scrapbooking or quilting.

Stick to traditional table lamps. If you're curled up on the couch browsing the Internet on your laptop, carefully placed table lamps can come in handy when you need more light. Ceramic lamps with wide shades are classic options that also provide plenty of light for reading, and contemporary lamps that feature simple stands and geometric shapes keep the room fresh and modern. Place matching reading lamps on end tables for a cozy homework area, or use side tables of the same height to tie mismatched antique lamps or ceramic lamps together in your family room.

Find lamps that give you plenty of light. Once you've decided between floor lamps and table lamps, you'll need to check out styles that provide the amount of light you need. Glass lamps with neutral-colored shades can set a dim, comfortable atmosphere, while modern lamps with high-wattage light bulbs and wide shades will bathe your family room in bright light. Make sure to buy lamps that can be used with higher-wattage bulbs if you need extra light in certain areas. You may need to place certain table lamps on side tables so they shine plenty of light in the room.

Buy Table Lamps
Back to Guides Directory