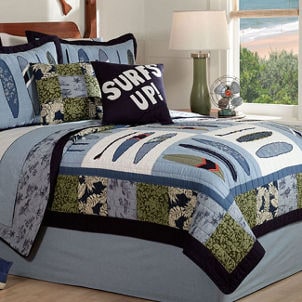 Eliminate shadows and dark shapes when you buy a lamp to brighten up your son or daughter's bedroom. Whether you want a whimsical wood lamp for a daughter who enjoys reading books or colorful table lamps for your son's nightstand, you're sure to find kids' lamps that your children will love. Read on for tips on buying the best lamp for your child's room.
Shopping for a Child's Lamp:

Keep your child safe with a plastic lamp. Prevent a busy toddler or 3-year-old from injuring himself and buy a plastic lamp for his room. You can find many of these kids' lamps in bright colors and patterns that each child will love. A plastic lamp will also offer lightweight durability, which is especially valuable as kids are just learning to walk.

Buy novelty lamps for older kids. Once your son and daughter have opinions about colors and designs in their bedrooms, you can let them pick out the novelty lamps they like. Look for novelty lamps that include decorative bases featuring their favorite sports, interests and characters. A wood lamp with a soccer ball-shaped base and a patterned lampshade will delight your son or daughter who plays on a soccer team.

Find touch lamps for easy use. If your daughter likes to read books before she falls asleep, why not make it easy for her to turn the light on and off with touch lamps? These stylish desk or bedside lamps can be turned on simply by tapping the base or even touching the lampshade, depending on the model. Buy touch lamps with adjustable necks and heads your daughter will appreciate as she gets older and chooses books with smaller print. Your children will also like these lamp styles when they work on homework in their bedrooms.

Shop for a simple, efficient lamp. You may worry about your child tipping bedside lamps over by accident or leaving them on for hours at a time. Get ease of mind and buy lamps with clean designs and safety features, such as an automatic shut-off function and a cool-touch base. You may also want to buy lamps that require low-wattage light bulbs, as these table lamps do not usually get as hot as other lamps do and are less likely to cause a fire.

Buy Table Lamps
Back to Guides Directory