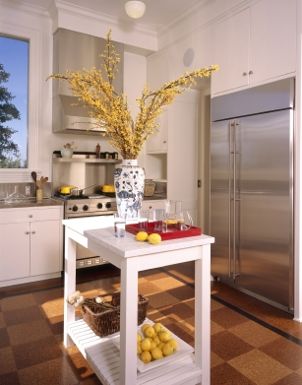 Add extra storage and counter space without remodeling when you buy a kitchen island for your home. Whether you need a drop-leaf kitchen island so you have plenty of room for chopping vegetables or a sleek stainless steel kitchen island that provides storage for your pots and pans, the following suggestions will help you buy kitchen islands and carts that work for your space. Read on for tips on finding the best kitchen island for your home.
Choosing the Best Kitchen Island:

Consider the functions you need. If you're looking for a kitchen island design that will give you a lot of space for preparing meals, you'll probably want to buy a drop-leaf kitchen island. This versatile piece of furniture will offer plenty of countertop space when you need it but fit neatly in your kitchen when you don't. If you need more space to store appliances and dishes, you'll want to look for portable kitchen islands that include adjustable shelves, drawers and racks. Portable kitchen islands with doors will hide your storage from sight and keep your kitchen looking clean.

Decide on a finish you like. Kitchen carts and islands are made from various types of wood and are also frequently made of stainless steel and granite. If you're unsure of the kitchen island design to choose, look at the decor and appliances in your kitchen and the rest of your home. A stainless steel kitchen island will complement a contemporary style and work well with other stainless steel appliances. If you'd like a cozier look, buy a wood kitchen island or cart made of teak or birch you can place in the center of the room. You can find a wood kitchen island with a glossy finish for a polished look or a rougher texture if you want a rustic feel. Pull up a few stools or benches to these laid-back kitchen carts and islands to create a comfortable area for chatting with your family or friends.

Keep portability in mind. Save room in a cramped kitchen and buy a rolling kitchen island. Store your kitchen island in the kitchen pantry if you have space and wheel it into the kitchen when you need extra storage or a place to prepare food. A rolling kitchen island can also fit against an empty wall in your kitchen and be moved to a more central location as you need it. Make sure to buy kitchen islands that have durable casters and are easy to push if you'll be moving your furniture frequently.

Buy Kitchen Carts
Back to Guides Directory