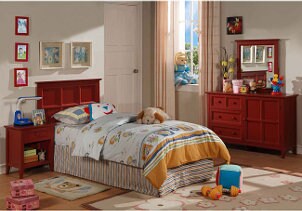 Many parents are surprised by the many choices they're faced with when buying kids' furniture. Who knew there were so many different kinds of beds and shelves and furniture? Kids' furniture should reflect children's fun-loving natures and be a place where they can use their imaginations to the fullest extent possible. When you're investing in kids' furniture, there are a lot of things to consider. What kind of furniture do your children need? What kind of furniture is best for children? The answers to these questions about the best kids' furniture and accessories are listed below.
Furniture and Accessories for Kids:

Bunk beds. A bunk bed is an iconic piece of kids' furniture. Not only does it serve as a kids' bed, but its height allows it to become an impenetrable castle, a ship or perhaps a space station. Your kids will get a good night's sleep and then immediately have a fun place to play after they get up. Bunk beds are ideal for large families because they can save space with a stackable kids' bed. In addition, bunk beds also suite small families because bunks provide an instant bed for overnight guests. If you find that you don't need both beds, then you may be able to convert the bunk bed into a loft bed and use the space underneath for storage or work. Bunk beds are extremely versatile.

Bean bags. These fun pieces of furniture make great chairs or a soft place to nap. Bean bags come in a variety of sizes, colors, fabrics and patterns, so picking one to match your child's room is easy. You also can choose between bean bags filled with foam pellets or memory foam. These handy chairs are just right for sitting and reading a book, for playing video games, drawing pictures or taking a nap. A child's bean bag is fun, informal and easy to move.

Bookshelves. Bookshelves can be used by children of all ages. Bookshelves come in different sizes in order to accommodate different ages. A bookshelf that only comes up to an adult's waist may be the perfect height for a small child. Bookshelves are also a multipurpose piece of furniture. Not only are they meant to store books, but they can also be used to store and exhibit other treasures. An older child may prefer a tall bookshelf in order to keep a special collection out of a small sibling's reach.

Storage beds. By investing in a storage bed, you get a bed and storage drawers all in one piece of furniture. A storage bed is a great space-saver for kids' bedrooms, which means there's more floor space available for playing games.

Toy box. All parents know that their kids' imaginations can run wild and that their toys go a long way in entertaining them, but when reality sets back in and it's time to clean up, a toy box is the perfect solution. All the toys can be placed in one location, easy to access for next time. A toy box will go a long way in helping a child keep his room clutter-free.

Novelty furniture. This kids' furniture includes chairs or desks shaped like animals or a favorite sports toy. These accessories will certainly add whimsy and excitement to any child's room.

Buy Kids' Furniture
Back to Guides Directory