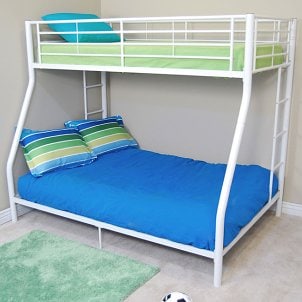 When it is time to shop for a new kids' bed for your growing boy, you have a lot of options. While twin beds are perfectly acceptable, other kids' bed styles offer a higher level of functionality and amenities that better suit the needs of growing kids. Take a look at this article to learn the best kids' bed styles for boys.
Kid's Beds for Boys:

Bunk beds: Bunk beds are an excellent choice for boys, young or old. Not only will your child think it is cool to sleep up high, but bunk beds also provide extra room for sleepovers or out-of-town guests. Available in wood, metal or laminate finishes, bunk beds come in many styles to blend with any decor. Some designs even offer the option of a full-size bed or futon sofa in place of the lower bunk, and many offer the ability to separate the bunks into two twin beds. Children under the age of six should not sleep on the top bunk, according to the U.S. Consumer Product Safety Commission.

Loft bed: If your child's room is short on space, but you do not need the extra bed that a bunk bed provides, consider a loft bed. These beds have a platform that raises the mattress high off the ground to leave the space beneath the bed open. You can use the extra floor space as toy storage, a reading nook or a study area. Some designs even include built-in shelving, work space or drawers. Again, young children should not sleep in a loft bed.

Trundle combination: A trundle bed offers all the benefits of a bunk bed without the risk of having a bed high off the floor. A trundle bed slides underneath a typical bed so that it is hidden from view until it is needed. Trundle beds are versatile, and many can be raised to standard bed height during use. Trundle beds are perfect for boys because they preserve precious play space yet offer sleeping space for visiting friends.

Full-size bed: If your little boy is not really little anymore, consider purchasing a full-size bed. Smaller than a queen, a full-size bed provides extra room for a growing boy. A full-size bed also offers extra space for sleepovers or visiting couples. As an added bonus, full-size beds are perfect for the transition into adulthood. Kids moving away from home for the first time will appreciate having something other than a twin bed to take with them.

Buy Kids' Beds
Back to Guides Directory