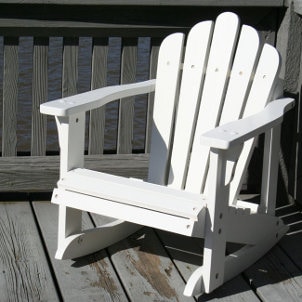 Your backyard is designed for your family to enjoy, and the kids in your family likely spend a lot of time back there during the summer. Whether your kids are playing in the yard or joining the family for a weekend barbecue, you want them to be safe and happy. Make the most of your outdoor space by choosing patio furniture your kids can enjoy with you.
Kid-friendly Outdoor Furniture:

Adirondack chairs: These large, wooden chairs are a longtime backyard and beachside favorite, and they're kid-friendly as well. Since these chairs have wide bases, large seating areas and sit low to the ground, they're sturdy and hard for kids to fall from and get hurt. Many Adirondack chairs come unpainted, allowing you to paint them in fun, bright colors for your kids to enjoy.

Kid-size dining sets: There are a lot of outdoor dining sets available, but not all of them are the best choice for kids. Bistro sets are popular, but the tall tables and chairs pose a safety hazard to small children. Instead, choose dining sets that are low to the ground and make of wood, wicker or other child-friendly materials. You may even want to consider a coffee table with floor cushions or low chairs surrounding it.

Hammock chairs: Kids love to swing, and a hammock chair lets them do just that safely in your backyard. The deep, cuddling shape of hammock chairs keeps kids from falling out easily, and the gentle swinging motion is just right for kids worn out from playing. Securely hang the hammock swing from a tree, overhang or hammock-chair stand with a solid base to further ensure your children won't be injured.

Picnic tables: For everything from lunchtime to afternoon crafts, picnic tables are a great place to seat your kids. Most picnic tables have benches secured to the table, creating a sturdy base that won't tip when your child climbs on it. In addition, picnic tables are easy to clean, so you don't have to worry about spilled juice, finger paint, mud pies or whatever your child may find in the backyard.

Sofas and lounges: Everyone enjoys relaxing in the backyard, including kids. Sofas and lounges are comfortable, safe places to take a break from play. Look for seating with soft cushions that won't hurt children who bump into them. In addition, outdoor cushions are designed for easy cleanup, so muddy feet and dripping popsicles aren't a challenge.

Buy Patio Furniture
Back to Guides Directory