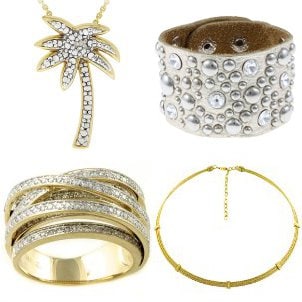 You've worked hard on your tan. You may have gotten it as a reward for all the yard work you did this spring, or you may have finally splurged on a custom spray tan. Either way, there are many ways to show off your dark, golden skin this summer. Jewelry can help accentuate a tan and draw attention to your best features. Which jewelry is best for your summer wardrobe?
Perfect Summer Jewelry:

Gold: Match the tones in your tan with sparkling yellow gold chains, bangles, bands and hoops. White gold and silver jewelry may be more popular in the winter, but sunny days call for extra luxury and glittery accessories. Layer several pieces of gold jewelry for a perfectly overdone look. Gold chains, bangles and cuffs decorated with coins, charms and beads can hold their own with glimmering summer fashions.

White: Wearing white always enhances your tan, but white jeans, dresses and tops are not always practical. Try some white accessories, instead. White cuffs and white leather braided bracelets will accentuate your tan, even if you prefer to dress in black for work and dates. White gemstones are very opulent. Consider pearl necklaces, white jade cocktail rings and opal earrings if white gems intrigue you.

Diamonds: Brilliant diamonds sparkle in the sunlight, drawing attention to your dark skin and favorite warm-weather fashions. White diamonds are classic in cocktail rings, tennis bracelets and chandelier earrings. Try colorful fancy diamonds in novelty pendants, studs and stackable bangles if you are ready for something completely new and vibrant.

Tropical charms and pendants: Embrace the mermaid trend with a glowing tan and a collection of cute ocean-inspired baubles. Look for gold charms and pendants mimicking starfish, palm trees, coconuts, sea horses, shells and anchors. Group tropical charms on chains or clip them to link bracelets for jewelry that you can wear on every warm day.

Buy Jewelry
Back to Guides Directory