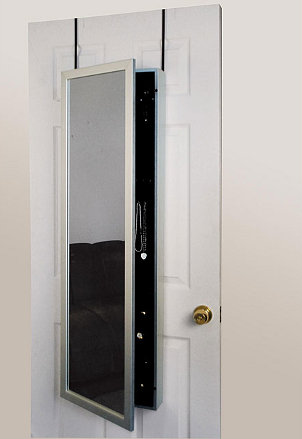 If you have an impressive jewelry collection and a less-than-impressive space to put it, compact jewelry storage can be your best friend. To alleviate the annoyance that comes from digging through piles of loose accessories, find a storage system that separates jewelry items without using square footage.
Best Jewelry Storage Ideas:

Wall-mounted armoires: Floor space becomes a valuable commodity when you don't have much of it. Instead of shoving a full-sized jewelry armoire somewhere, opt for the compact version that can be mounted on your wall. These jewelry holders function like a bathroom cabinet; only instead of shelves, they have multiple hooks for necklaces and bracelets and drawers for earrings and rings. Hang a mirrored jewelry armoire over your dresser to maximize wall space and provide a place to get ready.

Jewelry rolls: When you live in a small home, the biggest favor you can do for your sanity is to minimize your possessions. After getting rid of what you don't wear, store the basics in a leather pouch that rolls up for easy storage. Jewelry pouches can easily fit in a drawer and are convenient for people who travel often.

Trinket boxes: For a decorative solution to overwhelming accessory collections, try small trinket boxes. You can group pieces in your collection together and store them in trinket boxes all around your home, breaking up the bulk of your jewelry wardrobe. Place one on the nightstand filled with cocktail rings, one on your dresser for necklaces and keep a jewelry box for earrings on the bathroom counter. Breaking up your jewelry storage will make it seem less imposing in a tiny apartment.

Over-the-door hangers: If you're out of wall space, as well as floor space, it's time to use the neglected area behind your doors. Lightweight jewelry armoires that include hooks to hang over doors can be placed over closet doors that swing open or affixed to the inside of your bedroom door. You may want to stay away from hanging jewelry on the back of your bathroom door, as the humidity can cause jewelry to tarnish and become dull, but any other door is fair game. For extra necklace storage, you can also purchase simple hooks that hang over the door and keep your pretty jewelry in plain sight.

Buy Jewelry Boxes
Back to Guides Directory