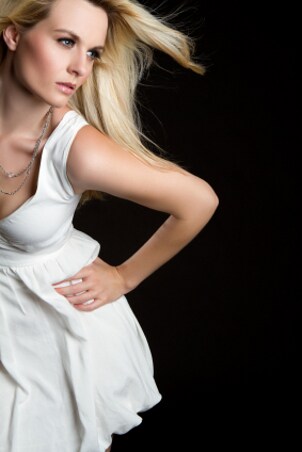 When summer rolls around, you will see all-white outfits on every runway. The look is fresh and fabulous, but it leaves many people wondering how to accessorize such a statement. If left unadorned, a white outfit can seem unpunctuated and airy, so it's important to ground the ensemble with a few select accessories. Rather than weighing a white outfit down with mismatched necklaces, bright bracelets and chunky rings, choose a few pieces of jewelry for a cool summer outfit.
Accessorizing White Outfits:

Delicate gold chains: A white outfit looks stunning with a few gold chains. To keep from overpowering the ensemble with gobs of gold, choose delicate chains. A few gold chains at your neck and charm bracelets on your wrist make for a lovely bit of texture and shine. A short gold necklace with a cluster of small gold charms completes the look. Long chains with larger links look nice with white jeans and a white T-shirt if you keep other jewelry to a minimum.

Colorful earrings: You won't feel like you're coming on too strong if you wear bold earrings with an all-white ensemble. Earrings add just a touch of color to your look without detracting from the simplicity of a white outfit. Chandelier earrings are an especially flattering choice. Gemstones add luxury and shine to a pair of gold or silver drop earrings. Look for earrings sporting blue topaz, aquamarine and lapis lazuli to add a splash of blue.

Stackable rings: Cocktail rings can be too much against a white background, but stackable rings add texture and drama without being overpowering. Stackable bands are available in sets, and you can also customize your own with gold and sterling silver rings and titanium bands. Some stackable rings have sparkling gemstones and intricate designer details. Mix and match rings for a look that is interesting but subtle.

Black gemstones: Offset a white outfit with a touch of black. Black gemstones look amazing next to a white backdrop. Onyx rings, black diamond bracelets and black agate earrings are ideal accessories to pair with white dresses, linen pants and relaxed, button-up shirts.

Buy Jewelry
Back to Guides Directory