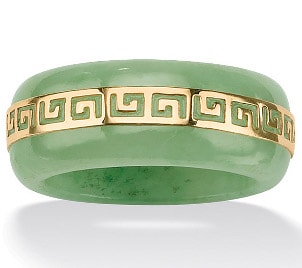 Collecting gemstone jewelry is a great way to indulge in a bit of treasure. Gemstone jewelry can enhance any outfit and be passed down through generations of jewelry lovers. Jade is an ancient gemstone that has been valued by many different cultures. Jade jewelry comes in a myriad of styles, but many men and women prefer contemporary jade jewelry for their gemstone collection. To get trendy with jade, consider fashion jewelry, fine jewelry and designer jewelry with a modern twist and invest in a few of these styles.
Modern Jade Jewelry:

Necklaces: Modern jade necklaces come in a couple of different varieties. Beaded fashion jewelry with jade gems is very versatile and trendy. These pieces of gemstone jewelry can be worn with many different outfits. Green jade gemstones are the most popular, but fine jewelry and designer jewelry often incorporates yellow jade, pink jade, white jade and red jade. Jade pendants are also very popular in trendy jewelry. Jade gems are easily carved into fanciful shapes; these unique charms are fun to wear on a chain or leather cord.

Bracelets: Jade bracelets add a splash of color to any neutral ensemble. Jade cuff bracelets are very trendy and modern, as are beaded jade bracelets. Layer several gemstone bracelets on one arm to embrace texture and create your very own trendy jade jewelry. Buy jade bracelets in a set to invest in several matching pieces at once.

Rings: The cocktail ring is arguably the trendiest piece of jewelry at the moment. A bold and dramatic ring on your right middle finger looks great with dresses, jeans, suits, trousers and leggings. Jade is affordable among gemstones, allowing you to indulge in a large stone set into gold or sterling silver. Many jade cocktail rings are decorated with intricate metal work.

Earrings: When shopping for trendy jade earrings, look to dangling styles and drop earrings. Intricate chandelier earrings are fun and will capture anyone's eye. Delicate pendants swinging below the ear will go with everything in your closet. Colorful jade is perfect for earring designs. Pink jade, yellow jade and blue jade earrings will match a variety of tops and dresses in your collection.

Buy Jade Jewelry
Back to Guides Directory