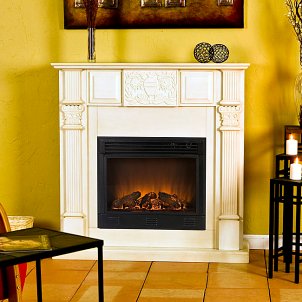 Stay warm and cozy without chopping wood and lighting fires when you buy indoor fireplaces for your living room. Whether you're short on space and want to hang a wall fireplace or are dreaming of sitting in front of a stylish electric fireplace, the following suggestions will help you choose a fireplace that fits well in your space and warms the room effectively. Read on for tips on finding the best indoor fireplaces for your living room.
Shopping for Indoor Fireplaces:

Consider buying a gas fireplace. If you already use natural gas to heat your home, why not invest in an indoor gas fireplace? These models will warm up the room quickly, and you won't have to worry about buying wood or other fuel to keep the fire burning. Many indoor gas fireplaces also have realistic-looking flames that look a lot like those in traditional wood-burning fireplaces, so you'll be able to achieve the look you want without the mess and expense of buying wood.

Choose an electric fireplace for convenience. When you don't have a lot to spend on gas fireplaces or have extra room in your home, an electric fireplace is an excellent option. Many of these fireplaces cost only as much as an electric room heater to run each month, and you can find many compact models that can be tucked into corners or placed in small spaces. Electric fireplace models usually cost less than gas fireplaces, too.

Buy a gel fireplace for an environmentally friendly model. If you don't have a lot of room and a traditional fireplace is impractical, you'll want to look at gel fireplaces for your home. These models, often mounted as wall fireplaces, use a clean-burning gel made with isopropyl alcohol. The gel is long-burning and nearly odorless, which makes gel fireplaces ideal for small homes or apartments.

Purchase a portable fireplace for versatility. Bring warmth to any room with a sleek portable fireplace. Many of these models can be used both indoors and outdoors, making them perfect for a patio barbecue or just a quiet evening watching a movie in your living room. Look for a portable fireplace with a thin metal and glass design to work with any decor.

Buy Indoor Fireplaces
Back to Guides Directory