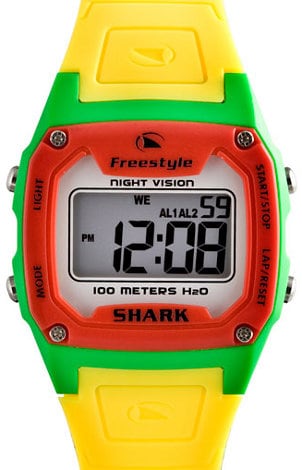 The spirit of competition has always driven humans to improve, evolve and thrive. Whether you are looking for a stylish sport watch to round out your collection of cool timepieces or you need tough watches that can keep up with your athletic lifestyle, Freestyle watches are the perfect choice. Freestyle watches perform and add color or sleek style to your wardrobe. Dive watches and surf watches from Freestyle allow you to live in the water, while Freestyle sport watches give you the athletic and outdoor tools you need to succeed. Consider these models when shopping for Freestyle dive watches and sport watches:
Freestyle Watches for Everyone:

The Shark: The Freestyle sport watch known as the Shark is almost as famous as the brand itself. You can choose from classic Shark models and updated Sharks for both men and women. Freestyle Shark watches typically feature tough plastic, rubber or polyurethane cases and straps. Many Freestyle Shark watches are very bright and colorful, making them perfect casual timepieces. Wear a yellow, green and red Shark watch with your favorite jeans and a bright red T-shirt. Each Shark has water resistance to at least 100 meters and an easy-to-read digital time display. Some Sharks have a chronometer, a screw-down crown and a night-vision backlit display. Freestyle sharks fit right into your life, whether you love to surf, run, skate, snowboard or just party all night.

The Stealth: The Freestyle Stealth watch is the ultimate surfer's accessory. The Stealth displays present and future tide data, so you never miss a killer wave. With water resistance to 100 meters, a sturdy polyurethane strap, backlight vision and a comprehensive calendar, the Freestyle Stealth watch can easily become an extension of you and an essential accessory in your active life. The Stealth has a hip, sleek appearance and neutral hues, so it will match everything you own.

The Hammerhead: The Hammerhead Freestyle watch is legendary for its tough construction. The watch is water-resistant to 200 meters and features a screw-down crown. The Hammerhead watch is available with a black polyurethane strap and either a white or black dial. The Hammerhead Chrono XL is also available with a white strap and features three subdials.

Buy Freestyle Watches
Back to Guides Directory