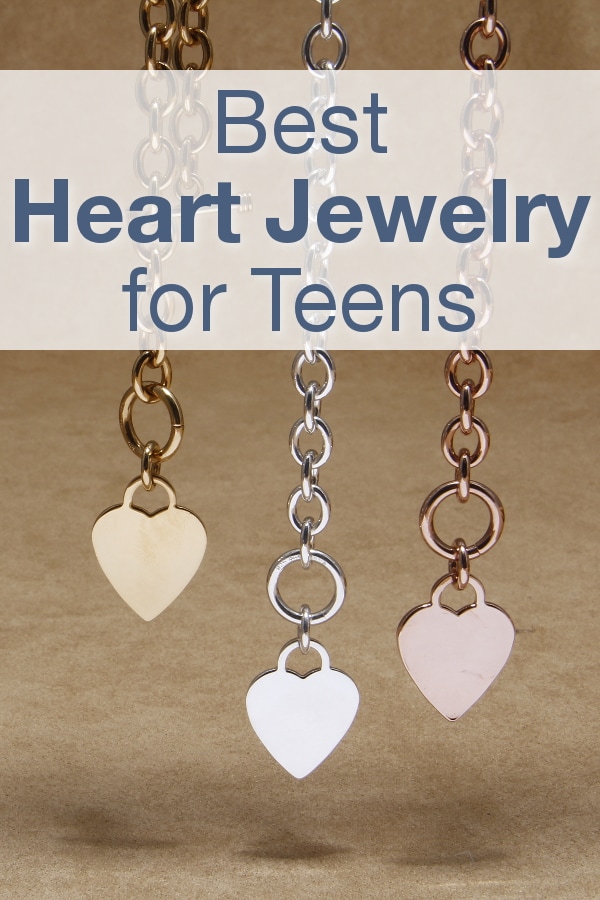 SHOP HEART JEWELRY NOW >>
Looking for jewelry with everlasting style? Heart jewelry has been popular for many years, and it remains a favorite jewelry option among women of all ages. Heart jewelry is especially trendy for teens. Whether you're looking for jewelry to update your own wardrobe or you want to find a gift for your girlfriend, your best friend, or your teenage daughter, you'll want to consider heart jewelry.
Heart Jewelry for Teens:

Bracelets with charm: Charm bracelets never go out of style. Heart charms are perfect for accessorizing a charm bracelet. Some bracelets even have heart charms right on their toggle clasps. Other charm bracelets are covered in heart charms of all shapes and sizes. These playful pieces add a lot of flair and shine to anything in your closet and are great youthful jewelry for teens. Let them shine by keeping other accessories to a minimum.

Hearts of glass: Glass jewelry is so hip; it really makes a statement about durability existing within fragility. Glass hearts can dangle gracefully from long necklace chains, chunky charm bracelets, and bold chandelier earrings. Glass heart jewelry is available in many bright colors to suit a youthful wardrobe and accent fashions in every season.

Wear your heart on your finger: Rings are a current favorite in the jewelry world. It's easy to wear a different ring every day because rings don't overpower other accessories, but everyone sees them when you talk with your hands and give class reports. Cocktail rings are funky and bold. Vintage cocktail rings with gemstone hearts are both romantic and on trend. Sterling silver bands decorated with heart designs are subtle enough to wear every day. You can even stack midi rings with other heart rings for a modern look. Heart rings are perfect romantic jewelry gifts; consider giving a promise ring with trendy heart designs on your relationship anniversary.

Clusters of hearts: Cluster jewelry is very trendy. You can find cluster charms from a variety of major designers. A cluster of hearts is very dreamy on a necklace, a bracelet, or a pair of earrings. Make your own cluster jewelry with a variety of heart charms in different sizes and colors.

Shape up: Diamonds cut into a heart shape have a sweet look whether they're on stud earrings or a pendant necklace. Diamond heart jewelry is perfect to give for a sixteenth birthday present. You can give other gemstone heart jewelry; look for birthstone heart jewelry to make the gift a bit more personal.

Shop Heart Necklaces
Shop Heart Bracelets
Shop All Heart Jewelry
See All Guides
Read More Jewelry Guides
Learn More about Fashion Jewelry
Published January 11, 2011
Updated January 7, 2015