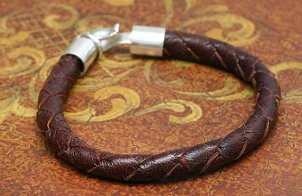 You can add your personal stamp to an outfit with a piece of men's jewelry. Handmade men's jewelry is unconventional and is available in a myriad of styles. When you purchase a piece of handmade jewelry directly from a jewelry artisan, you are supporting artistic expression. Many pieces of handmade men's jewelry are one-of-a-kind, and handmade jewelry is trendy and versatile. Consider these styles when shopping for men's jewelry with handmade quality and innovation.
Trendy Handmade Men's Jewelry:

Leather: Leather is the top choice for many jewelry artisans because it is attractive, natural and can be crafted into a variety of styles. Leather jewelry is perfect for a masculine closet, and you can find leather bracelets, necklaces and rings in a wide selection of colors. Wear a braided brown leather necklace with your favorite khaki shorts and a button-up shirt. A black leather cuff bracelet adds an edgy vibe to a basic pair of skinny jeans and a black T-shirt. Stainless steel rings with leather detailing are great if you are looking for an unconventional wedding band. Use handmade leather jewelry to personalize everything in your closet.

Metal: Metal can easily be twisted, sculpted, shaped, etched and embellished by a creative jewelry artisan. Handmade metal jewelry is interesting and unique. A handmade sterling silver link necklace is rock-star worthy and can be worn with jeans and a leather jacket. Handmade gold cuff bracelets with carvings and details are eye-catching and can completely transform a simple pair of slacks and a T-shirt. Handmade silver rings are different from mass-produced pieces. Many men's handmade metal rings incorporate symbolism, outlandish shapes and several types of metal.

Wood: Wood is the perfect material choice for many jewelry artisans because it is abundant and it offers such a range of styles. Wood can easily be carved, painted, sanded and shaped into twisting and curving designs. String a handmade wood pendant onto a leather necklace for a piece of jewelry that is rustic and natural. Handmade wood ear-plug studs, wood rings and painted wood bracelets are all great gift options for the jewelry-loving or nature-worshiping man in your life.

Buy Handmade Jewelry
Back to Guides Directory