Best Hand-held Games
by Staff Writer
Entertainment is going mobile, and handheld games are a great way to have fun wherever you are, from bus-stop benches to long flights. Originally, hand-held video games suffered from poor graphics, low battery-life, and tiny screens. Now you can play games on a large screen in high-resolution color -- sometimes even in 3D. A few game types lend themselves well to portable gaming. Here are some of the best hand-held games to try.
Hand-held Games You'll Love: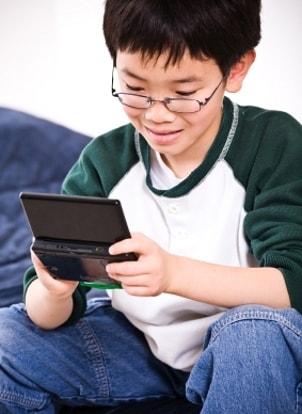 Shop Video Games ▸
Puzzle games:

Puzzles make ideal hand-held video games. There are countless hand-held puzzle games that will challenge your ability to find patterns, solve word puzzles, and solve problems. Look for puzzle games with multiple difficulty levels and a large number of puzzles or levels to keep you entertained.

Arcade games:

Now you can have the addictive fun of classic arcade games in the palm of your hand. Hand-held arcade games feature simple controls and level after level of challenging game-play. These games will focus on beating your own high score, increasing in difficulty, complexity, and speed with each level. New and old arcade games are perfect hand-held games because each game is quick and short, letting you get a short game in here and there.

Action adventure games:

Nothing is better for a hand-held game console than a hack-and-slash, button-mashing adventure game. Whether it's an action RPG, in which you create your own character, or a handheld game version of a great sci-fi movie, it'll be fun to fight your way through waves of enemies while sitting on the train.

Sports and racing games:

Various sports games and racers work well for solo hand-held games. If your hand-held console can connect to friends' consoles, you can play head-to-head against them. Your favorite soccer, football, basketball, or hockey game will make a great addition to your collection.

Simulation games:

Build a city, run a business empire, or create your own theme park with a handheld game simulator. Simulation games cover a whole range of games that put you in control of events and creation systems.