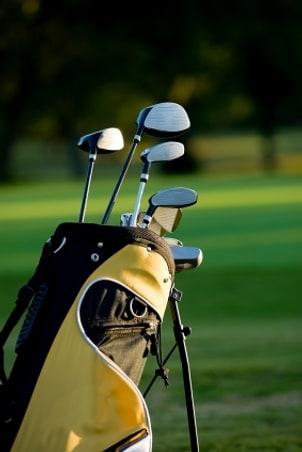 When you are on the golf course to enjoy yourself, you want all the golf gear you can find to make the day better. Golf equipment accessories can make your game easier. Fortunately, there are all kinds of great golf equipment accessories available, which means every golfer can hit the course prepared. This article should educate you on some of the best golf equipment accessories.
Golfing Accessories:

Range finder: A range finder is a handy scope that helps you figure out how far you hit your ball and how much farther you have to reach the hole. This golf equipment accessory will help you choose which golf club to use and how much force to hit the ball with. If you have trouble estimating distances, a range finder is a piece of golf gear you'll be grateful for. When selecting your range finder, you'll want to consider a few features. First, think about measuring range. An effective range can be from 20 meters to over a thousand. A range finder may also measure in yards. Second, think about the differences between manual and digital. Manual range finders will be much less expensive than digital range finders, but the digital models are more accurate. Finally, think about the field of view degree. Golf range finders usually have an observable field of view of about 7 to 8 degrees.

Golf club grips: Add a few golf grips to your arsenal of golf gear or replace the worn-out grips on your favorite set of golf clubs. These will help ensure a secure grip on your clubs no matter what the conditions are. A better grip means better control over your golf clubs, and that means a better score. Golf club grips come in different sizes, usually designated as small, medium and large, or as juniors', ladies' and men's.

Golf club head covers: Give your golf clubs an extra bit of protection with head covers. Like a padded sock for your golf clubs, golf club covers slide over the heads and stay on with a bit of elastic. If you want to add some personality to your golf clubs, you can choose novelty versions of these golf equipment accessories.

Golf bag transportation: While you are choosing golf gear, think about a few golf items to make your golf bag easier to transport, such as wheels. Give your arms a rest and save your strength for your golf swing. You can choose to add wheels to your golf bag with a pull cart. Of course, the easiest way to travel around the golf course is with a golf cart. Most golf carts are electric, with top speeds of about 10 to 15 miles per hour. When you are shopping for a golf cart, make sure it holds as many people as you want (most golf carts hold two to four people) and that it supports as much weight as you need it to hold.

Buy Golf Gear
Back to Guides Directory