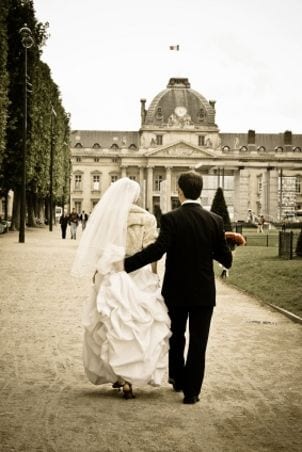 For many marriage celebrations, deciding on wedding gifts or bridal gifts is simple. The couple has registered, so you can pick something from the wedding gift registry, have it gift-wrapped and, voila! It's ready for you to take to the wedding. A destination wedding is a bit trickier. Since you'll probably have to travel to get to the wedding, you don't want to purchase a gift that can't be packed or is impractical. With a few tips, however, you can find beautiful and unique wedding gifts for any celebration.
Destination Wedding Presents:

One for the money. What couple doesn't love to receive money as a wedding gift? The beauty of giving money to a couple having a destination wedding is that they can spend it as they like. They can purchase something at their wedding destination or on their honeymoon, save it for something they need at home or put it toward wedding expenses. For fun wedding gift ideas, consider making a "money tree" and tying dollar bills to twigs and branches, or purchase a wedding card and write a heartfelt note to include with a check or cash for a personalized wedding gift.

Improve a traditional card. If you don't want to give money as a destination wedding present, the second-best present is a gift card. You can use your imagination with this one. Think of what the couple likes and give them a gift card to their favorite restaurant, coffee shop or store for a personalized wedding gift. You can also get them a gift certificate for something they love doing, such as to a pottery or dancing class or a wine-making shop. If you know they have recently purchased a home, you can also get them a gift card to a local home goods store for a thoughtful wedding present.

Help the honeymooners out. Chances are the couple is planning to combine their honeymoon into their destination wedding trip. Think of wedding gift ideas relating to their wedding/honeymoon destination, such as a day at the spa or dinner at one of the best local restaurants. For tropical locations, you could give the couple scuba diving lessons or a day excursion for unique wedding gifts. A digital camera or camcorder also makes a great gift for wedding celebrations and honeymoons.

Check out the registry. Many couples who have a destination wedding still have a wedding gift registry. Consider purchasing them something from their registry and having it sent to the couple's home address rather than trying to take it to their wedding. Often when the couple is having a destination wedding, they will designate a family member's address to have the bridal gifts and other gifts for wedding parties sent to as well for safe keeping.

Buy Bridal Gifts
Back to Guides Directory