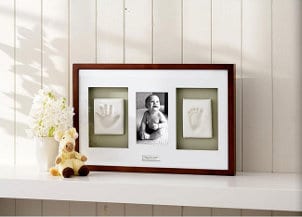 If someone you know is welcoming a new family member, help them celebrate with a thoughtful gift. Consider gifts and flowers for the parents-to-be that will enrich the experience of having a new baby and help them make the transition as smoothly as possible. Along with all the clothes, diapers and other baby gifts the couple are likely to receive, special gifts for parents will show how happy you are for them and their new baby. Gifts for expectant parents are fun to give at baby showers, hospital visits and beyond. Use our gift ideas to choose presents that will be appreciated by the new parents.
Gifts for New Parents:

Keepsakes: Help the new parents commemorate the birth of their child with fun, unique gift ideas, such as jewelry, picture frames and home decor items. Not only are keepsakes pretty, but they're also meaningful and help keep the memories of this special time close. A necklace pendant of a mother and child will thrill any new mom and become a treasured part of her jewelry collection. An engraved sterling silver baby rattle is a baby gift that will delight any parent by giving them something to cherish and pass down to their child.

Digital camera: A new digital camera is a thoughtful gift for expectant parents. Expectant parents will want to capture all of the precious moments with their new bundle of joy, from the day they bring baby home to their child's college graduation. A digital camera will allow new parents to easily take endless photos of their little one. Look for portable cameras to give as gifts with video capabilities and features that will allow anyone to take professional-quality photos. A keepsake or digital photo frame will let them show off all their pictures, too.

Pampering gifts: Parents' gifts that pamper and relieve stress are wonderful for new parents. Items such as massaging foot baths, specialty pillows, gourmet gift baskets and plush robes can help to get new parents through the day after being up all night with their newborn. Surprise the new parents with a dinner or movie club subscription so they can spend some worry-free time relaxing together.

Gift Cards: Adding a gift certificate for mom and dad to a baby gift can add a lot to a present and show the parents how much you care. Consider gift cards as parents' gifts for maid services, spa days or a night out. You might even consider making your own gift certificates for babysitting services to accompany restaurant or movie gift cards.

Buy Gifts and Flowers
Back to Guides Directory