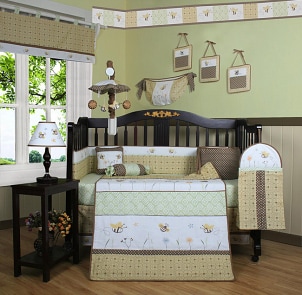 When you're decorating your baby's nursery, don't forget the little things, like crib sheets. You wouldn't want your crib sheets to clash with the rest of the bedding or the rest of the nursery decor. Choosing gender-neutral crib sheets is a great idea if you start decorating your nursery before you know the gender of your baby or if you want to be able to save the crib sheets for younger siblings in the future. You know to stay away from pink and baby blue and to choose yellow, green, beige and bright colors for a gender-neutral nursery, but the pattern of your baby sheets can be important, too. You wouldn't want princesses for your little boy or trucks for your little girl. When you're shopping for baby bed sheets, the following crib sheet designs can help you select gender-neutral crib sheets for your nursery.
Gender-neutral Crib Sheet Designs:

Stripes and polka dots: These basic, classic prints make great crib sheets for either a baby girl or boy. Just try to avoid baby blue and pink, unless the colors are mixed into the crib sheet design evenly with more gender-neutral colors, like yellow, green and beige.

Noah's ark: This classic baby pattern focuses on the next cutest thing after your baby -- animals. Animals don't come in just pink or blue, so it'll be easy to avoid drowning your entire nursery in either of those colors. Crib sheets in a Noah's ark pattern can grow with your child and even turn into a fun bedtime learning tool as they try to name all the animals.

Abstract prints: Like stripes and polka dots, crib sheets in abstract prints create a great backdrop for a nursery without overwhelming the other decor. Abstract and geometric prints are especially fun in a crib in bright or primary colors.

Classic baby motifs: Baby bottles, diaper pins, rubber duckies – all items you associate with babies, and not just baby boys or girls. Crib sheets in classic baby motifs usually blend a variety of pastel colors that are great for either a baby girl or boy. Plus, these fun sheets can easily be passed down to younger siblings and still be in style.

Carnival: Bright colors bring out the best in any baby's nursery and give your baby fun, contrasting hues to look at. Carnival-theme baby sheets are always fun and energetic, and they lend way to some equally fantastic nursery decor.

Nursery rhymes: Decorate your crib with images from the very same stories you'll read to your little one. Mother Goose and Peter Rabbit crib sheets are always classic and sweet. For an extra bedtime treat, the Cow Who Jumped over the Moon is perfect for counting sheep.

Black and white: Nothing could be better for a gender-neutral nursery than black and white crib sheets. Plus, young infants' eyes aren't developed enough to see color, but the bold contrast between black and white is interesting for them to look at and helps develop their ability to focus their eyes.

Buy Baby Bed Sheets
Back to Guides Directory