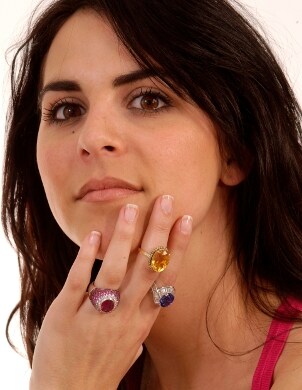 You love shopping for gemstone jewelry, but which pieces are you most likely to wear on a regular basis? It's a common problem in the fashion world: You want to choose accessories that you'll get a lot of use out of, but you wonder which pieces are right for right now. You can follow a few rules when shopping for gemstone jewelry to choose the freshest rings, the trendiest necklaces, the best bracelets, and the most stylish rings to wear right now.
Best Current Gemstone Jewelry:

Gemstones with a lot of color: This season, brightly colored gemstones are among the most popular. This is mainly because neutral fashions are so trendy and stylish. It's easy to maintain a black, white, and grey modern wardrobe and dress it up by adding orange, pink, green, blue, yellow, and red gemstones. When shopping for brightly colored gemstones, don't miss the precious stones, like pink sapphires, orange diamonds, green emeralds, and red rubies. In the semiprecious gemstone category, shop for red garnets, orange coral, blue aquamarines, green peridots, yellow citrines, and green jade.

Neutral gemstones: Colorful gemstones are not right for everyone or every outfit. Sometimes, what you really need is a bold black onyx bracelet or a pair of white jade earrings. Neutral gemstones are almost always guaranteed to be trendy because black, white, and grey go with vintage, modern, and futuristic fashions.

Stones that match the seasons: Different gemstones are best for different seasons. In the spring, consider pastel pink, yellow, and blue jade rings, bracelets, and pendants. When summer hits you full force, try a bright orange sapphire bracelet or a pair of pool blue topaz earrings. Fall calls for royal tones, like purple amethyst and glowing citrine pendants. For winter, try icy blue and white moonstones and black and grey diamond jewelry.

Your birthstone gem: Personalized jewelry is a huge trend right now, and one of the easiest ways to try it out is with birthstone jewelry. Your birthstone represents the month in which you were born, giving you a special connection to a gemstone ring or a pair of jeweled earrings. You can find your personal birthstones on this list of birthstone options for each month.
What Do You Want to Do Next?

Start Shopping for Gemstone Jewelry
Shop for Birthstone Jewelry
See All Jewelry
See All Guides
Read More Jewelry Guides
Learn More about Gemstones