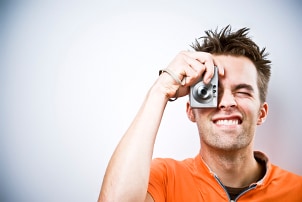 There's more to digital photography than just point-and-shoot. The right gear can help you take full advantage of your digital camera and create the best shots you've ever taken. Here are a few items you might want to add to your digital photography toolbox.
Digital Camera Gear:

Camera bag: Digital cameras, lenses and filters are delicate pieces of electronics. Shield them from bumps, scratches and the elements with a padded camera bag. A good bag or backpack will have separate compartments for your digital camera, extra batteries, cables and other camera accessories.

Lenses and filters: If you own a DSLR camera, you'll probably be able to swap out lenses. A wide-angle lens or a telephoto lens will allow you to take full advantage of the features on your digital camera. UV-coated filters can also change the way to take photos.

Memory cards: Digital cameras are often designed to use a specific memory card type: Compact Flash, Memory Stick, Multi-Media Cards (MMC) or Secure Digital (SD) memory cards, to name a few. Memory cards can fill up quickly with digital photos, especially with a digital camera that takes high-resolution photos, so purchase a few memory cards to always be ready in case one gets full.

Photo printers: A photo printer with a high dpi rating will print reliable reproductions of your digital photos. Some photo printers, called "camera docks," connect directly to your digital camera so you don't have to transfer photos to your computer to print.

Digital picture frames: You can display some photos in traditional frames, but a digital photo frame is a good way to cycle through hundreds of snapshots. You can connect your digital camera via USB or insert a memory card into the frame to upload photos and display them on a screen up to 15 inches.

Tripods: A steady camera can mean the difference between a beautiful digital photo and a blurry image. A tripod can help you keep your digital camera steady. It doesn't have to be large either. You can find compact, adjustable tripods that will work with most digital cameras on nearly any surface. Check for different mounting styles to make sure your point-and-shoot or digital SLR is compatible.

Buy Digital Cameras
Back to Guides Directory