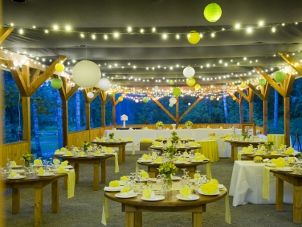 Make a backyard wedding or reception more special when you buy garden lighting that complements your yard and your home. Whether you would like to add sparkle to the trees with garden string lights or create a more subtle glow with solar garden lights along the pathways, the following suggestions will help you find the garden lights that create the romantic atmosphere you want. Read on for the best garden lighting ideas for an outdoor wedding.
Outdoor Garden Lighting:

Buy LED garden lights for a bright, long-lasting glow. If you're looking for vivid outdoor garden lighting to illuminate your patio for the couple's first dance or the cake-cutting ceremony, why not try LED garden lights? These energy-efficient lights use light-emitting diodes to produce clean, high-powered light and can last much longer than traditional fluorescent and incandescent bulbs. LED garden lights have become particularly well-loved among gardeners, as the light wavelengths they emit promote chlorophyll absorption in plants and help them to grow. While LED lights are known for their powerful white light, there are many colored options available that could complement the hues of the wedding decor, too. If you need outdoor garden lights with more power, look for fixtures with bulbs that include several diodes instead of just one or two.

Find solar garden lights to save energy and produce subtle lighting. When you want low-maintenance outdoor garden lights, keep things simple and try solar garden lights. Because these fixtures store energy they absorb from the sun during the day, they require no wiring and only need a battery, an LED light source and a photoresistor (which turns the light on at night) to work. While most solar garden lights are designed to be placed in the grass or ground of the garden for path lighting, you can also find solar-powered garden wall lights that provide illumination for the patio and areas near your home, especially as wedding guests arrive at night. Solar garden wall lights often include an auto-on and auto-off function so you can create a dimmer atmosphere as the wedding progresses.

Purchase garden string lights for a whimsical, old-fashioned look. Create a vintage atmosphere for the bride and groom with twinkling strands of garden string lights. Buy styles with bright, circular bulbs to drape around the trees, and look for outdoor garden lighting strands that include multicolored bulbs or even bamboo lanterns for a more laid-back feeling.

Buy Garden Lighting
Back to Guides Directory