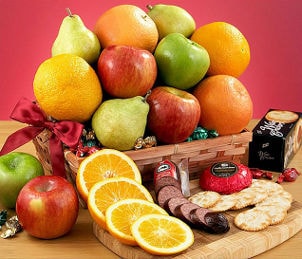 Food baskets are a popular choice of gift baskets on anniversaries, birthdays, holidays and corporate events. Gourmet gift baskets filled with snacks and food gifts can be shared with several people and are easy to ship to everyone on your list. If you want to have gift baskets delivered to your friends, family members or work associates, you can choose from several different types of food gift baskets that are appropriate for any occasion.
Buying Food Gift Baskets:

Say cheese. Filled with artisanal cheeses and crackers, cheese gift baskets are appropriate gifts for most special occasions. Gourmet cheese selections may include blocks, bars or balls of Edam cheese, Havarti, imported cheddars, goat cheese or mountain cheeses. Cheese gift baskets may also be filled with crackers, specialty meats and condiments.

Rise and shine. Baskets filled with gourmet breakfast foods, such as scones, muffins, pancake mixes, bread mixes, baked breads and breakfast cookies, make unique gift baskets. These items can be paired with a selection of gourmet coffees and teas, plus jams and jellies, and you can have the gift baskets delivered early so recipients can indulge in a tasty breakfast.

Be sweet. Chocolate is included in many popular gourmet gift baskets, and these gift baskets are a welcome treat at baby showers, corporate events, birthdays and anniversaries. Chocolate gift baskets may include bars of gourmet chocolate, boxes of truffles, assorted cocoas and chocolate coffees. European chocolates, blocks of fudge, nut clusters and chocolate cookies are a few more options for chocolate gift baskets.

Look what's cookin'. Baked goods, such as brownies, chocolate chip cookies, shortbreads, gingersnaps and other sweet treats, can fill a gourmet food gift basket for almost any occasion. For a less perishable gourmet food gift basket, look for mixes for muffins, sweet breads, cupcakes and other baked goods. Food gift baskets that include cornbread and salsa mixes are also great gift ideas, as are unique gift baskets filled with grilling supplies such as barbecue sauce and spice rubs.

Snack away. If the gift recipient doesn't have a sweet tooth, you can give him or her snack gift baskets filled with savory treats. Sesame sticks, pretzel crisps, dipping pretzels, cheese-flavored popcorn and mixed nuts can be paired with a bottle of wine or a selection of teas and coffees to make attractive snack gift baskets.

Buy Gift Baskets
Back to Guides Directory