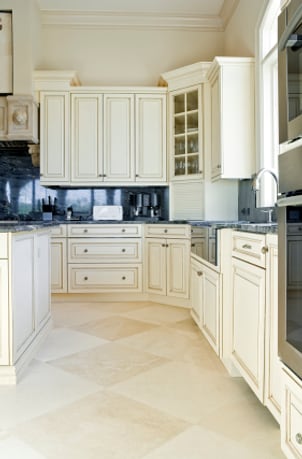 With so many different types of kitchen flooring available, you might not be sure which type is right for your kitchen. Kitchen flooring has to be able to stand up to high traffic, proximity to moisture and messy spills. When you're buying kitchen flooring, look for materials that are durable, attractive, easy to clean and within your budget. Here are a few of the best types of flooring for a kitchen's high demands.
Kitchen Flooring:

An old favorite reinvented: Linoleum flooring is made from all-natural products such as linseed oil, sawdust and rosin. It is available in both sheets and individual linoleum tiles and is fastened to the subfloor with flooring adhesive or glue. Linoleum flooring is one of the most economic materials used to cover a kitchen floor, plus it is easy to clean and fairly resistant to moisture and stains. Linoleum tiles are usually easy to install, making them a great kitchen do-it-yourself project. Today's linoleum flooring materials are also much more attractive and durable than older versions. You will find many different colors and styles of this kitchen flooring option to choose from.

A man-made alternative: Vinyl flooring is very similar to linoleum but is made from man-made products rather than natural materials. This helps to make it durable and long-lasting but may also increase its cost. Vinyl flooring is easy to install, even on kitchen floors that are slightly uneven or not level. Vinyl kitchen floors are also waterproof, easy to clean and resistant to stains and spills. Sheet vinyl is slightly more affordable than vinyl tiles and has fewer seams to trap dirt or moisture. Vinyl tiles cost more but offer quick and easy repairs if part of the floor becomes damaged. Tiles can be mixed and matched to create patterns or designs.

A classic choice: Ceramic tile flooring is one of the most durable and long-lasting floor coverings on the market. While it is often more expensive than vinyl or linoleum, tile flooring tends to last much longer and may be the most cost-effective option over time. Installing kitchen tile can actually add to the value of your home, making kitchen tile a good investment. Kitchen tile floors are waterproof, easy to clean, and available in a wide variety of styles and colors.

Buy Flooring
Back to Guides Directory