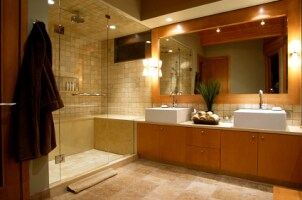 In a messy bathroom, cleaning the floors is often the biggest and least appealing chore. Clean floors are a very important part of a clean bathroom, whether you have tile, laminate or bamboo flooring. It always helps to use shortcuts when cleaning, especially if they are effective. Use these floor care tips to get your bathroom clean without the hassle of old-fashioned techniques.
Floor Care Tips:

Choose machine-washable bathroom rugs. Dress your floors in plush bathroom rugs that can be thrown in the washer on a regular basis. Good rugs can keep your floors clean, minimizing the time you have to spend sweeping and mopping. Thick rugs also add to the style and comfort of your bathroom.

Try use-and-wash bath rugs. If you have a high-traffic bathroom and find yourself constantly mopping up water, then try stocking your home with use-and-wash bath rugs. These rugs are used in hotels; they can be placed on the floor before a shower, giving you a dry place to step when you get out of the bathtub. Use-and-wash bath rugs can be used just once and then washed to keep your floors and bath rugs cleaner.

Dilute your cleaning solution before mopping. Modern cleaning solutions are highly effective, but many contain harsh chemicals. Be sure to dilute cleaning solutions before using them on your floors. This will protect your floors while minimizing the level of fumes in the small room.

Choose all-natural cleaning solutions. You can avoid harsh chemicals altogether by choosing all-natural cleaning solutions. Modern natural cleaning solutions are very effective, featuring ingredients like essential oils and fruit extracts.

Try a steamer. Steaming your floors can be much more effective than mopping. You don't need harsh chemicals when using a steamer because the hot steam does all of the work. Steamers also help you cut back on bathroom down-time because they are not left soaking wet after the job is done.

Invest in an automatic vacuum cleaner or mop. For really easy floor cleaning, choose robotic cleaning tools. Automatic vacuums are made to clean carpet, tile, wood and laminate, so they are very effective in any bathroom. Automatic mops will leave floors shining with just the touch of a button.

Buy Floor Care
Back to Guides Directory