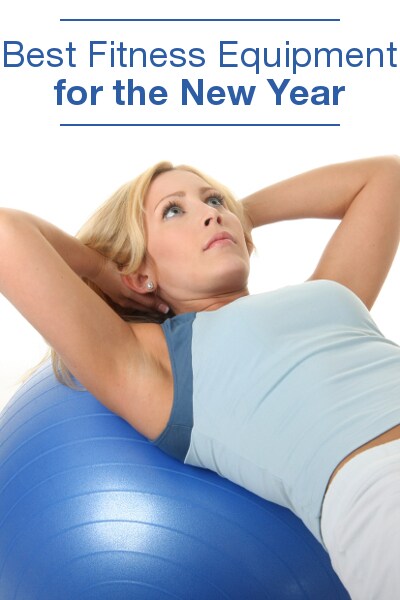 SHOP EXERCISE EQUIPMENT NOW >>
Sticking to your New Year's fitness resolutions may elude you year after year, but this year, the right fitness equipment can help you accomplish your fitness goals. While gym memberships work for many people, having quality fitness equipment in your own home can make exercising much more convenient. Here is the exercise equipment that can help you meet your goals for looking and feeling healthy.
New Year's Fitness Equipment:

Treadmills: If your New Year's resolutions include dropping weight or getting in good cardiovascular shape, then a treadmill can be helpful. While it's simple for some people to head outside for a jog or a walk, you may not live in a place conducive to jogging, and even if you are, poor winter weather can deter you from getting the exercise you want. A quality treadmill will make it easy for you to get a cardio workout whenever you feel like it, and treadmills offer a number of features, like adjustable incline and preprogrammed workouts, that allow you to tailor your jogging session to your preferences.

Weights: Weight training can assist with weight loss as well as help you tone muscle to improve your physique. A weight set makes a great addition to any home gym and can range anywhere from a full weight rack with a weight bench and accompanying barbells to a simple set of dumbbells in low weights for light toning exercises. Weight training is an excellent supplement to a cardiovascular workout on an elliptical machine or a treadmill, or it can be tailored to be a full-body fitness program in its own right.

Exercise bands: If you want to take your workout with you wherever you go, fitness bands may be a great help. They're simple elastic bands that provide resistance when you pull on them, allowing you to perform an almost limitless number of low-impact resistance exercises. Since they come in a variety of different thicknesses, bands can offer simple, low-exertion workouts to people just breaking into exercising, or they can provide more rigorous workouts that target a wide variety of different muscle groups for advanced fitness fanatics.

Heart monitors: Heart monitors help you review your individual workouts as well as track your improving fitness before it becomes apparent in your waistline. Heart monitors display your heart rate as you exercise, which can help you stay within a certain target heart rate as you exercise. Even if you're not aiming for a certain heart rate with each workout, you can track how hard your heart works as you do different exercises and how quickly your heart resumes normal beating after a workout, both very good indicators of how your hard work is paying off.

Stability balls: Most sports require a strong core, and toned ab muscles are a popular fitness goal. A wide variety of core-strengthening exercises can be performed on a stability ball, making them perfect for use at home. Try push-ups with your feet on the ball, crunches while sitting on the ball, or squats with the ball between your back and the wall. Look for a book of DVD with more ideas on how to get the most use out of an exercise ball.

Shop Fitness & Exercise Equipment
Shop Home Gym Machines
Shop All Sports & Fitness
See All Guides
Read More Sports & Fitness Guides
Learn More about Exercise
Published August 12, 2011
Updated December 18, 2014