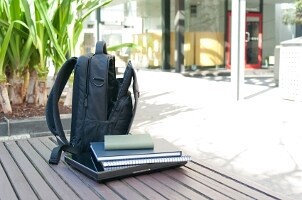 If you like to take you laptop with you to school or work, laptop backpacks are a must. Laptop backpacks are designed to protect your laptop during travel and are typically designed with several compartments to accommodate school or work supplies and laptop accessories. When you are choosing a laptop backpack for the office, school or travel, you will want to look for certain features that support your lifestyle. Finding the right laptop backpack can extend the life of your laptop and make keeping it with you much easier.
Best Laptop Backpack Features:

Laptop sleeve size: Some computer bags are designed to hold a laptop that is 15 inches or smaller, while other black laptop backpacks can accommodate laptops that are up to 17 inches or more in size. A laptop sleeve that is too large for your laptop or notebook will leave your computer loose to move around while traveling. The sleeve should fit your computer snugly to protect it from bumps and scratches.

Removable sleeve: For extra versatility, look for computer backpacks that have a removable laptop sleeve. For times when you want to take your laptop, but not your backpack, with you, the laptop sleeve of the pack can be removed so your laptop is still protected.

Sturdy construction: Computer backpacks made with layers of foam, high-quality nylon case material and several layers of fabric provide plenty of support for heavy computers and accessories and also serve as shock absorbers when laptop bags are slipped off of shoulders or when they're being moved in storage cabins. Look for thick padding on the bottom of the backpack as well.

Padded straps: Reinforced straps made with extra padding will alleviate strain on your back, shoulders and neck when you're traveling long distances with your laptop bag. If you plan to use your laptop backpack for extensive travel, you will need a backpack designed with padded straps. Padded straps also reduce the risk of the computer bag slipping off your body when you're walking. The best laptop backpack will be comfortable to carry, thanks to its padding.

Ventilation: The best laptop backpacks will have a back panel designed to allow air flow. This reduces the chance of embarrassing sweat spots on the back of your shirt by letting air flow between your back and the backpack. Make sure your black laptop backpack has good ventilation if you carry your computer around a lot, especially during the hot summer months.

Buy Laptop Backpacks
Back to Guides Directory