Best Features to Look for in a Digital Photo Frame
by Paul Sanders
Storing your photos on a digital picture frame is like having a continuously cycling photo album on a shelf or side table. When choosing a one, you want to make sure that it's easy to use and that it will display your photos in the way you want. Here are some of the best features to look for in digital photo frames for your home.
Digital Photo Frame Features: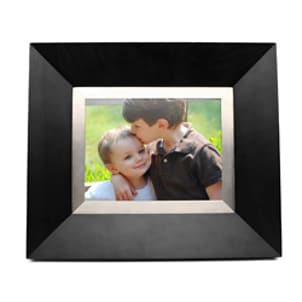 Shop Digital Picture Frames ▸
Screen size:

Most digital frames use an LCD screen to display the pictures. A digital LCD photo frame should be big enough that you can view the pictures comfortably in the place where you plan to display it. Most measure 7 inches or larger diagonally. Be sure that you check the screen size and not the size of the whole digital frame.

Screen resolution:

Digital photo frames are similar to computer monitors in that they display images at specific resolutions, measured in pixels. Pictures will look great on digital photo frames with resolutions of 800 x 600 pixels or more.

Multimedia support:

Because digital photo frames are basically small LCD screens, many of them can display more than just photos. Some digital photo frames support music and video file formats as well. A few can even display e-book files. Compatible file types will usually be listed in the digital frame's product description.

Connection ports:

If a digital photo frame has multiple connection ports and memory card slots, it will be easier to use multiple data storage devices to display your pictures. You may want to check which type of memory cards your cameras use and select a digital photo frame that supports those memory cards slots. A USB slot is also extremely useful, as the USB cable is one of the most common data cables used with electronic devices.

Remote control:

A remote control is especially great if your digital photo frame supports music, movies, and other media files. Remotes can be wireless or infrared. An infrared remote needs to be within the line of site of your digital frame to function, however.

Frame style:

Last but not least, you'll want to consider the style of frame. Some look very modern, while others have classic wood frames. This feature will matter a lot once you have it on display, and you may also want to coordinate the frame with the photos you display in it. For example, you may want to choose a white frame for photos of your wedding.