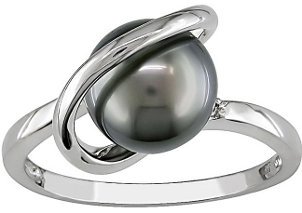 If you're looking for an extravagant piece of jewelry, consider shopping for stunning Tahitian pearls. Pearl jewelry is classic and goes with everything, making pearls a wonderful jewelry investment. Tahitian pearls are unlike any other pearls on the market. Unique Tahitian pearl jewelry is bold and dramatic, with plenty of flair. Make like a pirate and gather a few pieces of Tahitian pearl jewelry for your treasure chest. You'll want some unique pearl jewelry once you check out these facts on Tahitian pearls.
Tahitian Pearl Features:

Dramatic hues: The classic pearl necklace is simple, with white, pink or cream pearls. Tahitian pearls are much more dramatic in grey, black, silver and peacock green, and a piece of Tahitian pearl jewelry is stunning in any of these fabulous hues. When you're getting ready for a late dinner out with friends, add a modern strand of Tahitian pearls to some skinny jeans, your cute new heels and a neutral silk tunic. Silver, green and black Tahitian pearls really pop against a white, grey, silver or blue backdrop.

Extravagant size: The average freshwater pearl is 6 mm to 7 mm. Tahitian pearls range in size from 8 mm to 16 mm. Big, beautiful Tahitian pearls are valued for their opulent size. Tahitian pearl jewelry really makes a statement in any style because the pearls are so large. Tahitian pearls make fabulous center stones for rings of all styles. Consider Tahitian pearl engagement rings and cocktail rings with diamond accents. Tahitian pearls are commonly set in studs and drop earrings. Use dramatic Tahitian jewelry to add a lot of glamour to any look.

Steady value: Tahitian pearls have always maintained a level of rarity. Even today, with modern pearl farming practices, Tahitian pearls hold their value very well. Tahitian pearls come from the oyster Pinctada Margaritifera. These oysters are very sensitive to climate and habitat conditions, and pearl farmers must thoughtfully choose and care for the oysters in order to produce beautiful Tahitian pearls. This attention to detail keeps Tahitian pearls very valuable, even as new pearl farming techniques are invented. Choose a lovely strand of Tahitian pearls today and you can feel good about the jewelry investment you are making.

Buy Pearl Jewelry
Back to Guides Directory