Best Features of Snowboard Jackets
by Staff Writer
When you're out snowboarding all day, it's important to have a snowboard jacket that keeps you dry and warm, and whether you're looking for women's snowboard jackets or men's snowboard jackets, you have a lot of options. Looking fashionable at the resort is an easy choice, but knowing what features to look for in a snowboarding jacket will make a big difference in how much fun you have snowboarding.
Best Snowboard Jacket Features: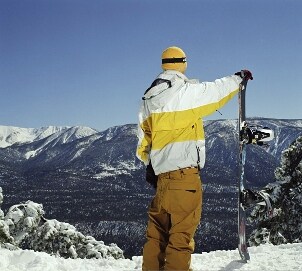 Shop Women's Snowboard Jackets ▸
Pit zips:

Pit zips let you cool down when the sun comes out and you warm up. When unzipped, pit zips ventilate your body, replacing the warm, moist air inside your winter jacket with the cooler air outside. Some pit zips will have mesh filling the gap while others are open; either way, the location makes it difficult for snow to get in, unless you tumble in some powder.

Zip-out liner:

When you're shopping for ski and snowboard jackets, look for versatility. Zip-out insulating liners make your snowboarding jacket more versatile on the mountain. Jackets with zip-out liners provide an extra layer of warmth on cold days. After you zip-out the liner, your coat also becomes the perfect light snowboard jacket for spring riding days.

Snow skirt:

Snow skirts aren't just for the ladies. Everybody can stay a little drier when their snowboarding jackets have snow skirts. A snow skirt is a thin piece of nylon with an elastic band that wraps around your waist. While the snow skirt remains hidden under your ski and snowboarding jacket, it keeps snow from coming up the bottom of the jacket when you're riding in deep powder.

Adjustable wrist cuffs:

Rip-and-stick wrist cuffs allow you to quickly and easily adjust the size of the wrist cuff on your winter jacket to fit over or under your snowboarding gloves or mitts. This will help prevent snow and cold from getting up your sleeve.

MP3 pocket:

Having a pocket in your jacket dedicated to holding your MP3 player is nice if you are the kind of person who likes to listen to music while carving turns or dropping into the half-pipe. Most MP3 pockets feature a soft lining that won't scratch the display and have a hole for the headphone cord.