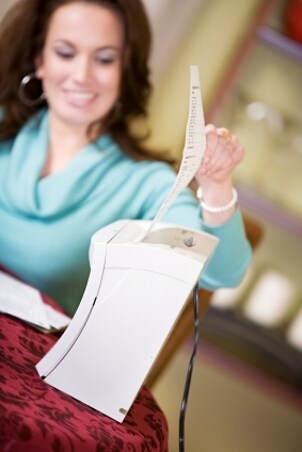 With identity theft on the rise, paper shredders are becoming more important than ever before. After all, a single bank statement in the wrong hands can give someone control over your account, something that a paper shredder can prevent from ever happening. Today's paper shredders come with a variety of different features, making shredders more convenient and effective than ever.
Paper Shredder Features:

Confetti-cut or cross-cut: For many people, especially people looking for a home paper shredder, a shredder that cuts documents into long, narrow strips is adequate. However, if you're looking for an office shredder or you simply want to make sure that your information is protected, you may want to look for a crosscut shredder, also known as a confetti shredder. Crosscut shredders cut documents lengthwise, and then cut them again crosswise, resulting in hundreds of tiny pieces, hence the term "confetti shredder." If you plan to use your shredder for office documents, you probably want to buy a crosscut shredder.

High capacity: High-capacity shredders can be a real boon at an office or if you shred lots of materials. Regular home paper shredders usually handle only a few documents at a time, usually no more than six or eight. This may work fine for shredding a billing statement occasionally, but it can make shredding a slow process if you shred lots of documents. High-capacity office shredders can handle stacks of paper at a time, making shredding so much easier and faster than it would otherwise be.

Plastic shredder: Paper documents aren't the only materials that carry important contact or account information. Credit cards, CDs, and other forms of plastic media can carry lots of sensitive information, even when you think you've erased it. Some paper shredders come with extra slots and grinders designed to destroy CDs, plastic cards, and even cassette tapes. If you want to dispose of plastic media that carries sensitive information, then be sure to look for this feature.

Bin full indicator: A full bin can easily cause a shredder to back up and jam, which can cost you a lot of time. While this isn't often a problem with shredders that attach to trash cans or that have open bins, it is a problem with office shredders that have enclosed or cabinet-style bins. If you're buying a shredder like this, look for one that has a "bin full" indicator. These indicators let you know when your shredder is filling up with paper, which will help you keep the bin cleared and your shredder running well.
What Do You Want to Do Next?

Shop Paper Shredders
Shop Shredder Bags
Shop All Office Electronics
See All Guides
Read More Office Guides
Learn More about Office Electronics