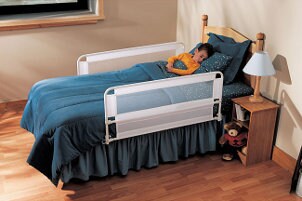 Looking through the many toddler beds available doesn't have to be stressful. If you're in the market for kids' beds, it can actually be a very smooth shopping trip. When it's time to move your toddler from a crib to a toddler bed, the change doesn't have to be drastic or dramatic. There are a few features in toddler beds you'll want to be aware of. Keep reading for a list of the best features for toddler beds.
Ideal Toddler Bed Features:

Low profile. This feature is arguably the most important for kids' furniture. Toddlers carry most of their weight in their upper body, which makes it extremely easy to lose balance. A bed that is close to the ground allows your toddler to get in and out of bed with ease, and if they fall, they won't have far to fall. This feature will also help your toddler feel more grown-up and capable.

Suitable size. Make sure the toddler bed is the right size. Toddlers are small, so they don't need a queen-size bed to sleep in. A small bed is better suited for your tiny tot.

Railings. Toddler bed railings prevent your toddler from rolling out of bed in the night. Make sure that the kids' furniture you're considering has railings to keep your child safe.

Sturdy body. Toddlers are full of energy, and bedroom furniture is often just another toy to them. A toddler bed needs to be able to stand up to the rigorous lifestyle of a rambunctious toddler. This includes everything from being jumped on, colored on with crayons or markers and being assaulted with an assortment of toys. You'll sleep as well as your toddler does when you know your toddler's bed is sturdy.

Fits standard mattress. Most toddler beds are built to fit a standard mattress, but it's always a good idea to check before you make the final purchase.

Buy Kids' Beds
Back to Guides Directory