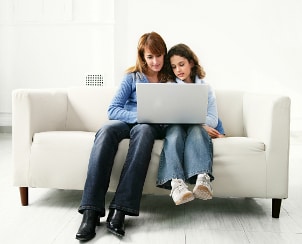 Kids often seem like they were born using technology. Your children may benefit from having their own laptops for study and for play. When you're considering electronics for children, the main question is often which features differentiate kids' laptops from computers for adults. You can identify a few features simply by putting yourself in your child's place as a young computer user. Here are a few considerations for the best laptops for children.
Kid-friendly Laptop Features:

Rugged case: Kids are understandably a bit rougher with everything than you may be. That's why a laptop with a tough outer case and a screen protector may be a good idea. Additionally, you can purchase a laptop sleeve or padded laptop backpack to protect the computer from bumps and scratches while your child carries it.

SSD hard drive: Most laptop computers and notebooks use a spinning hard-disk drive for memory storage. A solid-state hard drive (SSD) has no moving parts, making it a more durable choice for kids' laptops.

Internet filter software: Until they're older, it may be helpful to have more control over your children's Internet access. You can accomplish this by installing Web-filtering software on their laptops. Some laptops may already have such software installed by default; all you need to do is set it up with the appropriate parental passwords.

Software for school: If your children will be using their laptops for schoolwork, you may want to make sure they have useful office programs, such as a word processor and presentation software. The best laptops come with this software preloaded.

Small screen size: The larger a laptop is, the heavier it will be. Much of that weight comes from the laptop screen. The best laptops for kids are those with screens that are smaller than 10 inches. This also makes them easy to fit into kids' laptop backpacks.

Gaming capabilities: Most laptops will handle basic games just fine. More advanced games will require a laptop with faster processors, more RAM and, possibly, a built-in graphics processor. Also, gaming laptops tend to have larger screens and better speakers than other laptop types, and they often feature backlit keyboards.

Buy Laptops
Back to Guides Directory