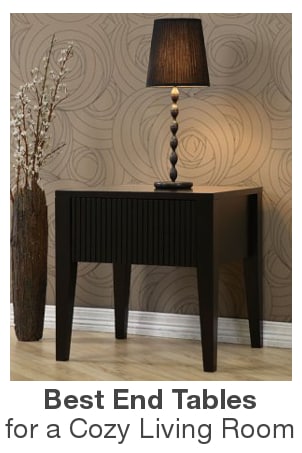 SHOP END TABLES NOW >>
Your living room can easily become cozy simply by grouping end tables, sofas, chairs, and other furniture together to create a more intimate setting that encourages conversation. The best end tables for a cozy living room often serve multiple purposes. They can be used simply as a place to set a warm drink on a winter evening or as a useful storage area where magazines, knitting, or other living room essentials are kept. Here are some things to consider when you're shopping for the perfect end tables.
End Tables for Cozy Spaces:

Material and finish: If you want your living room to be warm and inviting, then you'll want to look for wood end tables with a medium or dark finish. Cherry end tables make an ideal addition to your living room, as will an espresso-colored end table. You may not get that cozy feeling from end tables made from modern materials, such as metal or plastic, which can feel a bit cold.

Style: Traditional and classic end tables are a sure way to create a cozy living room. These warm, familiar designs will keep you and your guests feeling comfortable and welcome. If those aren't your style, try looking for handmade end tables. Tables made from reclaimed wood can also have a comfortable, lived-in feeling.

Size: The size of your end tables is crucial to the atmosphere of your living room. While a close-set living room arrangement is necessary for a distinct cozy feel, a crowded living room cancels out that friendly setting. Make sure you leave plenty of space when placing your new end tables in your living room. Your family and guests need a clear walking path through the room as well. If your living room already feels crowded, shop for end tables that have storage. Storing warm throw blankets where you can easily reach them will make the room feel even cozier.

Shape: The shape of your end tables is an important consideration when setting the stage for a cozy living room. There is an assortment of end table possibilities, like circular, square, and rectangular tables. However, for a cozy living room, rectangular end tables are best. These will maximize space and keep things intimate.

Use: Consider how you're going to use your end tables. Resting drinks or magazines on end tables is only natural, but to make the room feel lived-in, start with a lamp, a clock, or a few knickknacks. Keeping things you love -- souvenirs from favorite vacations or photos of loved ones -- on display will add to the cozy feeling in the room, too.

Shop End Tables
Shop Table Sets
Shop All Living Room Tables
See All Guides
Read More Furniture Guides
Learn More about Living Room Furniture
Published April 29, 2010
Updated April 2, 2015