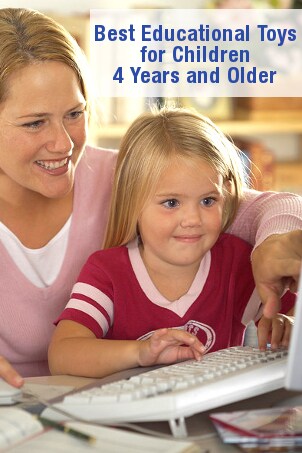 SHOP ALL EDUCATIONAL TOYS >>
As your children grow, they'll need toys and activities to help them learn, develop their motor skills, and stimulate their imaginations. Learning and educational toys are perfect for children over the age of 4, and there are many toys that combine fun with basic academic and social skills.
Toys that Educate and Inspire:

Learning games: The best learning games not only teach kids important skills in communication and thinking, but are also entertaining enough to keep them engaged. Simple board games and flashcards will help the lessons stick. For something more active, try an interactive floor game as a fun and productive way to release some energy while encouraging your child to play with others.

Electronic toys: Electronic learning toys that mimic everyday items are a great way for kids to get acquainted with science and nature. Kid-friendly cameras, telephones, magnets, and toy binoculars all provide immediate feedback and encourage children to explore the world around them independently. Kid-friendly laptops, tablets, and handheld computers also provide a fun way for your child to master basic academic and computer skills. Most electronic toys come equipped with built-in games, and you can purchase additional cartridges or applications as the kids master each subject.

Building toys: Every child learns differently, and building toys and puzzles provide great hands-on learning opportunities. Building blocks, in particular, promote creativity, spatial reasoning, and problem-solving. With free-form building blocks, your child can imagine what he'd like to create and work to turn the idea into reality. Other sets include easy-to-follow instructions with pictures or words to encourage your child to read and interpret directions.

Pretend play: Pretend play gives children the opportunity to act out what they see around them, and encourages them to use their language and imagination in new ways. Also, giving your child control of play time boosts self-confidence and self-esteem. Playhouses and play tents, kitchens, and dress-up clothes all encourage children to develop their personalities and improve communication and problem-solving skills.

Outdoor play: Swing sets and outdoor toys may not seem like educational toys, but they provide their own developmental benefits. Being active helps your child develop early social skills and improve coordination. Swing sets, playhouses and tents, and other age-appropriate outdoor toys encourage children to develop an active lifestyle and enjoy interaction with the world around them.

Shop Activity Sets
Shop Science Kits
Shop All Educational Toys
See All Guides
Read More Toys and Hobbies Guides
Learn More about Educational Toys