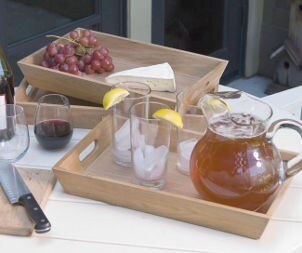 Serve your family and friends in style with quality dinnerware and serveware. Whether you need everyday dinnerware for daily meals or stunning crystal serveware you can pull out on special occasions, you're sure to find the serving dishes you need with the following suggestions. Read on for tips on finding the best dinnerware, serveware and other kitchen dishes.
Essential Serveware:

Buy sturdy plates and bowls for daily use. It's a hassle to frequently replace cracked dishes, so make sure to purchase durable everyday dinnerware for your family to use. Dishes made of plastic are best for young children, but you can also buy stoneware dinnerware sets; these bowls and plates are heavy and can withstand damage but still add classic style to your kitchen.

Find dishes in colors and shades you like. Fancy dinnerware sets come in only one color, typically white or another light shade, while casual dinnerware can feature colorful patterns or even bold, solid colors such as cherry red, navy blue or sunny yellow. If you're unsure of the colors that will work best in your kitchen, stick to white or ivory. These classic shades will complement any meal and make even the most casual dinnerware look fresh.

Purchase dinnerware sets large enough for family and guests. When you're buying ceramic dinnerware or new glass serveware pieces, you'll want to keep the number of people you plan to serve in mind. While you may only be serving five or six people on most days, you'll probably want more serving dishes on hand for special occasions or parties when you'll have guests. Look for ceramic dinnerware sets that include enough plates, cups and bowls for 12 so you'll always be prepared for guests.

Invest in formal serveware sets. Even if you won't use hand-painted serving trays or large sculpted serving bowls very often, you'll need fine serveware and dinnerware for special occasions, such as holiday parties, anniversary celebrations and even wedding dinners. Buy white ceramic serving trays for displaying a roasted turkey or ham on your table, and fill wide serving bowls with mashed potatoes, mixed vegetables and salads for guests to pass around. Fine dinnerware and serveware pieces will leave your friends and family with a great impression and make any occasion more festive.

Buy Serveware
Back to Guides Directory