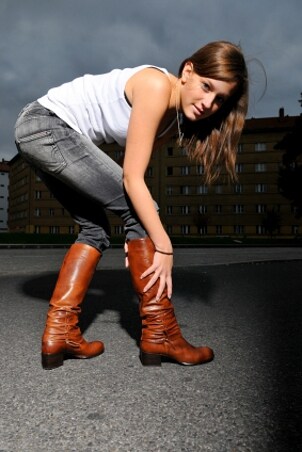 A sparkly pair of diamond earrings is the perfect accessory for a formal gown, but diamond jewelry can also be worn with more casual outfits. A cool party outfit needs a bit of shine, and diamond earrings are ideal for the job because they are neutral, trendy and fun. You can find diamond jewelry in a variety of styles, including very fashionable earrings that are perfect for all of the hottest parties. The best part about diamond jewelry is that it is an investment. You can easily own the same pair of diamond earrings for an entire lifetime. When you're dressing for a fun and trendy house party, consider wearing one of these styles of diamond earrings.
Hip Diamond Earring Styles:

Oversized hoops: Oversized hoop earrings have become a staple in every trendy woman's jewelry collection. These earrings can be worn with dresses and jeans whenever you want to craft a fun, urban ensemble. Oversized hoop earrings decorated with diamonds will add a lot of flash to your favorite pair of skinny jeans or a hot new dress. Keep some diamond hoop earrings on hand for hot parties and fun nights out.

Cuffs: Cuff earrings are the opposite of oversized hoops. This jewelry is small enough to "hug" your earlobes; sometimes cuff earrings are called "huggies". Diamond-covered cuff hoops are the cooler cousin of the petite hoop earring. Rather than being formal, cuff earrings with diamond accents are cutting-edge. Best of all, diamond cuff earrings are comfortable and easy to wear.

Chains: Long chain earrings are very hip. When a luxurious solitaire diamond graces the end of a chain earring, it becomes very cool and opulent. These dramatic diamond earrings will sway when you dance to your new favorite song. Wear these earrings with your hair half-up to show off the jewelry.

Fancy: Colored diamonds, also known as fancy diamonds, are very trendy. Blue, green, orange, pink and yellow diamonds add color to your look while keeping your outfit luxurious. Colored diamonds are commonly found on large diamond stud earrings. These earrings go with everything in your closet, from miniskirts to trouser shorts. Drop earrings may also feature colored diamond solitaires or elaborate multi-colored patterns. To really wow fellow party-goers, wear stunning chandelier earrings dotted with spectacular colored diamonds.

Buy Diamond Earrings
Back to Guides Directory