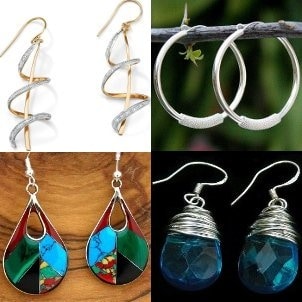 Dressing up a basic pair of jeans is simple when you have a collection of stylish dangle earrings to choose from. Dangling earrings are both dressy and trendy, making them the perfect jewelry to add sparkle and color to a bland ensemble. Whether you prefer skinny jeans, flare jeans or trouser jeans, there are several pairs of dangle earrings that are right for your personal style.
Stylish Dangle Earrings:

Spirals: Spirals offer a lot of sparkle and clean, contemporary lines. Spiral earrings are crafted of metal with delicate, swirling details. Choose from long spiral earrings and shorter spirals when shopping for fashion jewelry. Spiral dangle earrings are typically minimalistic, without gemstones or much decoration. This simple design makes spiral earrings the perfect jewelry to wear with jeans and other casual pieces.

Hoops: Hoops are very popular in fashion jewelry collections. Hoops are simple and straightforward, though they are found in many different designs. Large hoops are chic and eye-catching, while small hoops are more demure. Hoops may be made of sterling silver, white gold, yellow gold, rose gold or platinum. Some hoop earrings have gemstone embellishments or intricate details. Hoop earrings may be circular, oval or square. Square earrings are hip and unique.

Chandelier: Chandelier earrings will add a lot of sparkle to any casual outfit. Chandelier earrings are elaborate and often incorporate shimmering gemstones. Look for chandelier earrings with cascading gems or delicate filigree patterns. These dangle earrings will dress up any pair of jeans.

Chains: Swinging chains are very edgy, making them the perfect accessories for casual ensembles. Long chains on dangling earrings can make your face appear slimmer, especially when you wear your hair off your neck. Choose from chain earrings with one, two, three or more chains. Many pairs of chain earrings incorporate colorful gemstones or cool charms and pendants.

Teardrops: Teardrop earrings are streamlined, and they won't detract from other pieces of jewelry. These dangling earrings may have teardrop-shaped metal embellishments or drop-shaped gemstones. Teardrop dangle earrings can be worn daily with all your favorite pairs of jeans.

Buy Dangling Earrings
Back to Guides Directory