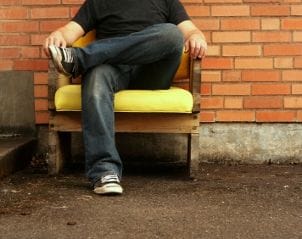 A great pair of jeans can really make an outfit, and a poorly fitting pair of jeans can do just the opposite. There are, however, several cuts of men's jeans out there. How do you know which jeans are right for you? It can be hard to find the right pair of denim pants to fit your body type and style. Read the following tips to help you determine which cuts of men's jeans will pair well with your sense of style.
Men's Jean Cuts:

Bootcut: Slim through the leg and cut straight from the knee, bootcut jeans are modern, comfortable and stylish. This cut of jeans works well for most body types, since the wider leg opening balances the look well. Bootcut jeans are also the perfect jeans to dress up or down. Your jeans will look comfortable and cool with a casual T-shirt yet contemporary and clean with a sport coat.

Straight leg: This classic cut should be a staple in your wardrobe. The legs are cut straight from the hip, creating a simple, clean look. Even if you choose an edgier cut of jeans to wear most days, you'll want a pair of straight-leg pants to wear with your more conservative looks. Straight-leg jeans pair well with T-shirts and sweaters alike, but jackets should be tailored to offset the straight cut of the pants.

Relaxed: A pair of relaxed-cut jeans is comfortable and casual. Relaxed-fit jeans will look great with a T-shirt on the weekends. This style of jeans is cut loosely from the hip to the cuff. Many men prefer relaxed jeans for working in the garage or playing a game of football in the back yard because they aren't too tight or constricting when you want a wide range of movement.

Slim and skinny: While not all men can pull of the skinny look, slim fit jeans are contemporary and trendy and look great on a slim body type. Some slim jeans, such as men's skinny jeans, taper towards the ankle, while others are cut straight, but slim, from the knee. If you're looking for a modern, edgy look that isn't too dramatic, choose a pair of slim jeans cut straight from the knee.

Buy Men's Jeans
Back to Guides Directory