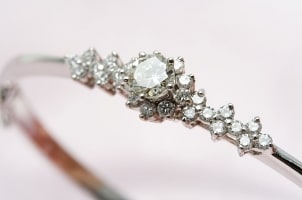 Luxury bracelets are true indulgences; wearing sparkling gemstones on your wrist is fantastically opulent. If you are looking for a great way to add luxurious, sparkling gems to your bracelet and jewelry collections without breaking the budget, consider shopping cubic zirconia bracelets. Cubic zirconias are lab-created diamond alternatives, and they look just like the real thing. In fact, cubic zirconia gems can be even better than diamonds because they have lab-perfected clarity and color. Cubic zirconia bracelets are available in many styles. You can find cubic zirconia jewelry that looks just like more expensive diamond bracelets or choose a piece of fashion jewelry that is unique. Add cubic zirconia jewelry to your jewelry collection with our list of the best pieces featuring this gemstone.
Sparkly Cubic Zirconia Bracelets:

Tennis bracelets: The tennis bracelet is a classic style, and diamond tennis bracelets are the perfect finishing touch to any formal or casual outfit. Cubic zirconia tennis bracelets allow everyone to indulge in this fashion jewelry trend and add rows of gems to their jewelry box. Cubic zirconia tennis bracelets are available in a variety of designs. Wear a simple cubic zirconia tennis bracelet with gold bangles and a sterling silver charm bracelet to dress up a nice pair of jeans. Try a thick and unique cubic zirconia tennis bracelet to accessorize your favorite black lacy cocktail dress.

Colored cubic zirconia: Colored diamonds and bright gemstones are fun and trendy. Cubic zirconias can be made to feature any hue, making colorful gems affordable and perfect for fashion bracelets. If your favorite color has always been pink, consider indulging in a beautiful bracelet with bright pink cubic zirconias. If your birthday is in May but you don't have the funds to add emerald jewelry to your wardrobe, consider a green cubic zirconia bracelet for a fun and personal accessory.

Cuffs and bangles: Cuff bracelets and bangle bracelets are always in style. Thin cuff bracelets can easily be layered with other accessories or worn all on their own. Thick bangles transform a basic ensemble quickly and dramatically. Cuffs and bangles covered in cubic zirconias are fabulous and glittery. Wear your cubic zirconia cuffs and bangles casually or formally.

Charm bracelets: Charm bracelets are eye-catching and youthful. If you want to create a charm bracelet that has plenty of flair, start with a cubic zirconia bracelet and add charms embellished with the beautiful sparkling gems. Silver and gold charms with colorful cubic zirconia gems are vibrant and lively.

Buy Cubic Zirconia Bracelets
Back to Guides Directory